Put your walker aside, place your dentures into the glass of effervescent solution, chug some fiber, don your bifocals and settle in for this review of a 2012 Buick Regal. Can you hear me at the back?
Not quite.  This is not your father's Oldsmobile Buick.
Remember those ads? Oldsmobile was trying to get people to think younger when they thought of Oldsmobile – a terrifying prospect for any marketing/branding agency, I'm sure – especially when the brand's name starts with "Old".
Buick is headed down the same road, and has a similar journey with parallel challenges ahead of them.
In GM shake-up of late, Pontiac, along with Saturn, Hummer and some would argue Saab, though I disagree) were taken out back and euthanized, whilst Buick was saved from the axe.  Part of the reasoning was because Buick has been considered the pinnacle of luxury in China for a number of years.  How that's possible is beyond me, and leaves me to question where the Chinese are at with….. anything. But I digress…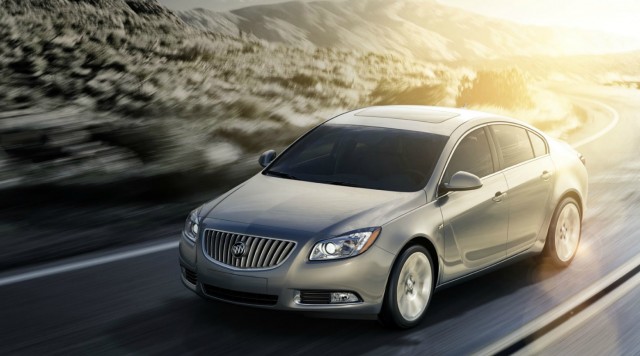 Let's move forward, shall we?  Do some research, and you'll find that Buick has started heading into a new direction and has been putting out a high-quality product, which has consistently rated quite high for initial quality and reliability. Some chuckle at those numbers and ratings, but they're no joke. Lexus hasn't sat at the top of those charts year after year for no reason – they've worked hard to be there and maintain their position.
So here we are – with a brand-new 2012 Regal to play with.  The Regal sits in the lower middle of Buick's line-up – above the new Verano, and below the Lucerne and Lacrosse.  A Regal starts at CDN $30,085.  Not bad, not bad.  This one is the e-assist model, and as tested, is priced at CDN $39,755.
What is this e-assist business they speak of? Well, it's a mild hybrid set-up. Rather than using the complicated (and expensive) hybrid technology you'll find in competitor's vehicles, e-assist uses simpler principles to achieve what it wants its hybrid to do. In place of the usual alternator, you'll find a belt-driven and liquid-cooled electric motor/generator. It adds a boost of 15 HP and 79 lb.ft of torque. The "mild" hybrid in this case means that the electric portion of the drivetrain will never move this car from a standstill like other will. It acts as a slight torque boost to the gas engine (which is a modern, direct-injection 2.4-Litre 4-cylinder) mainly during acceleration and going uphill – where you need it most, and where you'll burn the most fuel overcoming the laws of physics.
This combination is mated to a 6-speed automatic transmission.
The point with the mild hybrid isn't added performance – it's reduced fuel consumption, and the Regal e-assist is rated at 8.3L/100km (28.3 mpg) in the city, 5.4L/100km (43.5 mpg) on the highway. Those are very impressive numbers, considering the size of this car and what it offers. For the record, I averaged 9.8 L/100 km (24 mpg) in basically all city driving, with a couple of short blasts down the freeway.
The entire drivetrain isn't rated with some stratospheric numbers, nor is that the point here. The fact is, the e-assist Regal returns excellent fuel economy, all things considered.
Exterior
You'll find lovely lines here.  I really enjoyed the styling of the Regal.  It's not ground breaking, but I can't imagine anyone finding it offensive.  It is fresh, and certainly not what you might expect from Buick if you haven't had a look at one for a while.  Anyone I introduced to the Regal was impressed. It's a nice looking car.
The Regal has flowing lines, and the roofline drops in a smooth arc back to the trunk lid, disturbed only by a shark-fin antenna. The rear end styling impressed a lot of folks as well, but it does get a little busy back there for my taste.
Driving lights are upside-down L-shaped LEDs, and look great. The headlight pods contain HID lights and integrate nicely and sweep back, and there is a highly distinctive scallop on the sides, behind the front wheel wells. You can see this from a mile away, and it looks good.
The one issue I have with the Regal, and its stablemates is the Buick grille. It certainly has been updated, and for the better, but it might be time to let it go. It does have a less-than-fresh feel to it, and I'm not sure it does the Regal any favors.
Interior
Well, let's open one of those heavy, solid doors and have a look inside.  I thought the interior in the Regal felt really good.
There is some nice sculpting with interesting lines around the dash and the doors. Materials felt first-rate – everywhere you look, you'll find soft-touch plastics with lovely texture and good feel. The interior came across as a bit dark for me – it's essentially all black, and as attractive as it is, it could really use some splashes of color to brighten things up. Instead, Buick used gloss piano black inserts, which look pretty, but continue the dark theme and attract dust and fingerprints. The instruments and switchgear are lit with a cool blue, and at night, they are a feast for the eyes.
The seats were very comfortable, clad in nice leather with contrasting stitching. Both front seats are power adjustable and heated. As comfortable as they were, I would have liked some more bolstering on these seats, but as expected, the Regal leans toward comfort over performance, and that's just fine. If you were to take a trip down the highway, you'd be hard-pressed to find better seats.
The steering wheel is big – a little bigger than I like – but very comfortable, and manually adjustable for height and reach.  Behind it, you'll find a nice instrument cluster, with excellent, clear gauges.  I loved the chrome bezels around the big gauges, with additional markings – it made it look like an expensive watch.  Below the gauges is a driver information screen.
At the top of the center stack, you'll find a touch screen, and below that, a mass of buttons and dials that control the stereo, nav system and set-up. It looks busy at first, but doesn't take long to get used to. Under the buttons sits a dual-zone, automatic climate control system.
The center console houses a stylized chrome surround for the shift lever.
The switchgear throughout the cabin felt very good and gave the impression of high quality.
Headroom up front is excellent and leg room was pretty good. I felt that the left portion of the foot well was crowded for the driver's side. Knee room is fine, but the center stack flares out, and you might find your knee resting against one of the rare hard plastic surfaces in the car.
Tech/Convenience
The Regal has a lot to offer here.
The touch-screen is very bright, and offers clear, sharp graphics and I found it to be very responsive.  I enjoyed the graphical home screen, and for the most part, I thought navigating around the system was easy.  I appreciated the redundant controls, consisting of a rotary jog dial and buttons for navigation, audio, phone and destination – all situated in the center console, ahead of the arm rest. They were easy to use, and very responsive – a nice touch when you're on the road.
The sound system sounds pretty good, although music buffs should consider upgrading to the Harmon Kardon set-up. Audio sources are AM, FM, satellite radio, CD, auxiliary and USB. I found it very easy to pair my phone, and then to use the hands-free system with it – it sounded very good in the car.
The driver information screen below the gauges always shows you the gear selection, a compass and the odometer. It lets you toggle between instant and average fuel economy, fuel range, 2 trip meters, a digital speedometer, supplementary navigation read-out, average speed and a timer.
Overhead, you'll find a small tilt/slide sunroof, and controls for GM's ubiquitous OnStar system as well as a 3-slot HomeLink garage door opener.
The Regal comes with a key FOB that just needs to be on your person – no need for buttons. Your touch unlocks the door, and there is a push-start ignition. Strangely, there IS a switchblade-style key in the FOB. I guess it's there for when the battery dies and you still need to get into your car.  Seems weird, but really, it's not a bad idea to include it.
The Regal does have parking distance sensors with an audible alarm, letting you know if you're too close to something.
There are a couple of 12V plugs in the center console – one in the armrest bin, and another in an open bin.
The steering wheel has controls for cruise control, media, phone and hands-free operation.  Power windows, door locks and mirror controls are there.  Sadly the power door lock switch resides in the center stack.
And finally, a nice touch for those of you who tend to drive off with your parking brake on. I'm not pointing any fingers here, but if my wife reads this, she'll know who I'm talking to, mmmkay? The electronic parking brake will automatically release when you start driving forward, which is lovely.
The Drive
I can honestly say that this is probably the best mating of a gasoline engine, an electric drivetrain component and a transmission that I have driven. Every other hybrid I've driven has required a compromise somewhere but this one was completely invisible to me. Yes, it's only a mild hybrid, but it works and doesn't drive you crazy.
The driving experience was definitely smooth. This car doesn't get upset at anything. It is a very quiet car – in terms of road noise, wind noise, engine noise, you name it.
The transmission is also very smooth. It's going to hunt for a higher gear as soon as you let it, and you won't find a Sport mode, nor the ability to shift this car manually. The shifts themselves are quick enough for most people, I would think, and the transmission operated seamlessly.
The Regal e-assist is not a fast car. But I found that, in every day driving, I never wanted for more power. To be honest, I was more impressed with the power delivery than I thought I'd be. And if you need more, you can always opt up to the Regal GS, which has a rip-snortin' 290 HP engine, available with a true-blue manual transmission. That would be an entirely different animal. Step on the e-assist's go-pedal, and you'll find a smooth delivery of the power, and it seems that the hybrid applies torque right where it's needed. Under throttle, the little engine does let you know it's there, and sounds like it is working hard to make you happy, but under normal driving conditions, you will barely hear this engine at all.
The ride is excellent. Suspension tuning obviously heads down the comfort road, yet you're left with enough firmness to give you a little feel for the road. It does this while isolating the cabin from any road harshness or imperfections. I thought handling was quite good for a soft 4-door sedan, and body roll was significantly less than I thought I'd be seeing. Along the same lines, you'll find the dive and squat during acceleration or braking is very well controlled – not what you might expect from a Buick.
The electronic steering is highly boosted, which is very nice when you're parking or doing any low-speed maneuvering, and it felt nicely centered. But when it comes to driving, I prefer steering feel that's a little less numb and gives me some more feedback from the road.
Visibility out of this car is great out the front and sides, and shoulder-checking is fine. Rear visibility is slightly hampered by a bit of a tunnel feel, but it's nothing to complain about.
Rear Seats
I'm starting to sound like an old man, I'm sure, but I was so impressed with the rear seats in this car, that I'd like to go on a road trip and be chauffeured in it.
Getting in and out of the back seats is a breeze, and it is a very roomy passenger compartment. I found the leg and knee room to be shocking, and frankly, the outside dimensions of this car belie how much room it provides in the back. For the record, leaving my driver's seat where I need it to drive, which is quite far back, I was left with about 6″ of knee room.  Very impressive. Head room is slightly less impressive, but still acceptable.
The seats were one of the most comfortable I've found in the back of any car. You could fit 3 people back there, but 2 adults would be very comfortable.
You'll find small door bins, and 2 seatback map pockets. There are air vents, and a very convenient household 110 plug at the back of the console.  I love that! Rear passengers have their own ceiling-mounted reading lights.
The middle seat-back folds down to become a very comfy armrest, with two integrated cupholders and a lidded storage bin. Useful and thoughtful.
If you've got kids you need to store gently place back there, they'll be comfortable. Any child seats fit very well, and there are 2 sets of LATCH anchors.
Storage
The Regal does well with storage.  The trunk isn't as big as it looks from the outside, as the battery is stored between the back seats and the trunk, but it does leave you with a usable space – enough to do a road trip, in my opinion. Unless you're traveling with my wife. Because she would need the whole space. But that's a different post on my blog.
In the trunk you'll find a couple of cargo nets – one on the side, and one across the trunk's width. Two surprisingly heavy-duty tie down hooks hang out there too.
I love that the trunk hinges are shrouded. No arms will come down and pinch your cargo, so there won't be any surprises.
The rear seats do fold down, in a 60/40 split. Because there is a battery behind one of them, you'll only find a pass-through on one side. It seems silly to have the other seat fold down, but I think it's to offer a hard, carpeted area to transport bigger items, instead of putting things on your lovely soft leather seats and ruining them.
Other than that, you'll find small but usable door bins, an average glove compartment with an extra bin inside, and a lidded bin at the bottom of the center stack.
The center console houses 2 inline cupholders, with a nice sliding lid to close them off for a clean look. There's also lidded armrest with a couple of smaller, but very useful compartments inside. The front of the two compartments houses the auxiliary and USB connections.
Finally, there is a totally cool tilt-out bin on the underside of the dash to the left of the steering wheel.  It's about 8″ deep and makes for a very nifty use of space.
Nitpicks
It's the little things that ended up chapping my rear end with this car.
I thought that a rear-view camera should be standard in a luxurious car like this. Same goes for Bluetooth streaming – this audio option is fast becoming standard equipment in virtually every car manufacturer's offerings.
As lovely as the touch-screen was to look at, I found that it was a little small by today's standards. Also, Buick has recessed it so far into the dash as to make it difficult to touch without a reach. Which means I had to lean forward to touch the right side of the screen. Also, on a couple of cold mornings, the touch-screen did NOT respond to touch for the first few minutes until the car warmed up. Not cool.
This might sound trivial, but it played a trick on me every time. The gear selector lever does not line up with the letters indicating what gear you're in. So if you put it in D(rive), the lever is actually about 2″ back from where the lit up D is on your console. It toys with the mind, Buick!
The Regal has no dead pedal, and that's just not right. Even if you have no sporting intentions, you should offer this hallowed spot for the left foot.
The shape that Buick has styled into the side-view mirror housings clips off the outside top corner of the mirror on either side. Again, that might not sound serious, but it effectively knocks out any view you had of the lane next to you. The part of the mirror that is missing is the portion that I use 90% of the time. Opposite of awesome. I found this very irritating and clearly form trumped function here.
Last, but certainly not least, Buick really, REALLY needs to stop using the fake engine vents. They have been ridiculous for a long time, and they're just more ridiculous now. The Regal has them on either side, on top of the hood, and they're just dumb. If people really want them, let them head over to PartSource or Pep-Boys, buy them and put them on themselves with double-sided tape. That is all.
Details
One thing I really appreciated on the e-assist was that it doesn't take some heavy-handed tree-hugging approach to reminding you of how awesome you are and how you're saving the whole planet with your car. The leafy, green, soy-based displays get to be a bit much in some hybrids. The first of two hints you get here is a small section on the tach, which refers to the auto-stop technology. It's between zero and 1000 RPM – just an extra graduation, within which the needle drops when you stop at an intersection and the engine shuts itself off. And the second is a small "eco" gauge. It's basically a momentum gauge. When you accelerate or brake too hard, you're not driving as efficiently as you could be, and the needle will swing out of the eco-zone either way. It's a lesson in physics, basically, and a neat and useful way to keep an eye on how efficiently you're driving.
The Verdict
The Buick Regal simply felt well built and, for the most part, luxurious and expensive. Everything in the driving experience can be described as smooth, for better or for worse. Mostly, that's a great thing, but it might be more soft-edged than some customers want. That said, the Regal won't surprise anyone. Nobody will buy the Regal and be shocked afterward that it's just a bit more mature, comfy and laid-back than they had expected. This car is clearer about its mission than I thought it would be.
The Regal caught a fair amount of hate on our Facebook and Twitter feeds. Lots of negative comments and old-man jokes, yet I got the impression that none of the hecklers had actually ever seen one. 100% of those who saw it and had a look said they were very impressed, including the exterior styling.
I do think Buick still has to sort out where it's headed, and maybe more importantly, convince the buying public of that mission, but overall, this is a nice step into the current car market for Buick.
I couldn't find any fault with the car's quality, or fit and finish. Materials were top-notch, and I couldn't help but be impressed with the Regal. It's likely not a car I'd buy for myself, because I would be shopping for something with a little bit of a harder edge, but there are plenty of people looking for this exact car, I'm sure of it.
Evaluating the Regal in its class, taking into account the build quality, amount of equipment offered, road-going capability, fuel economy and value, I give the Regal e-assist a 7.5 out of 10. I have a feeling the Regal GS, with its fat rubber, performance-oriented drivetrain and manual transmission would probably get an 8.5 from me.
WAF (Wife Acceptance Factor) was exceptionally high – higher than I thought it would be. My wife loved this car, and felt the driving experience as well as the style was exactly what she wanted.
You can count me as an impressed bystander, Buick, and I like what I've seen so far. Keep it up!
Oh, and thank you kindly for not dragging the hybrid experience down by beating us over the head with it every time we look at the dash.
Friends, this isn't your father's Buick, and certainly not your grandfather's Buick. This is not an old man's car. This is a great car, and no longer just for the Viagra crowd.
Disclosure:  Vehicle was provided by GM.
If you enjoyed this review, feel free to check out my other vehicle reviews under the car reviews tab at the top of my blog.