Ridiculously good fuel economy (best in its class). Not as nerdy as I expected. Let's get that out of the way.
I spent a week with Toyota's Prius V – it's the big daddy Prius. It's bigger than the one you're used to seeing – longer, wider and taller. The Prius V starts at CDN $27,200 – the one I tested had the Touring Package added on, and rang in at CDN $34,975.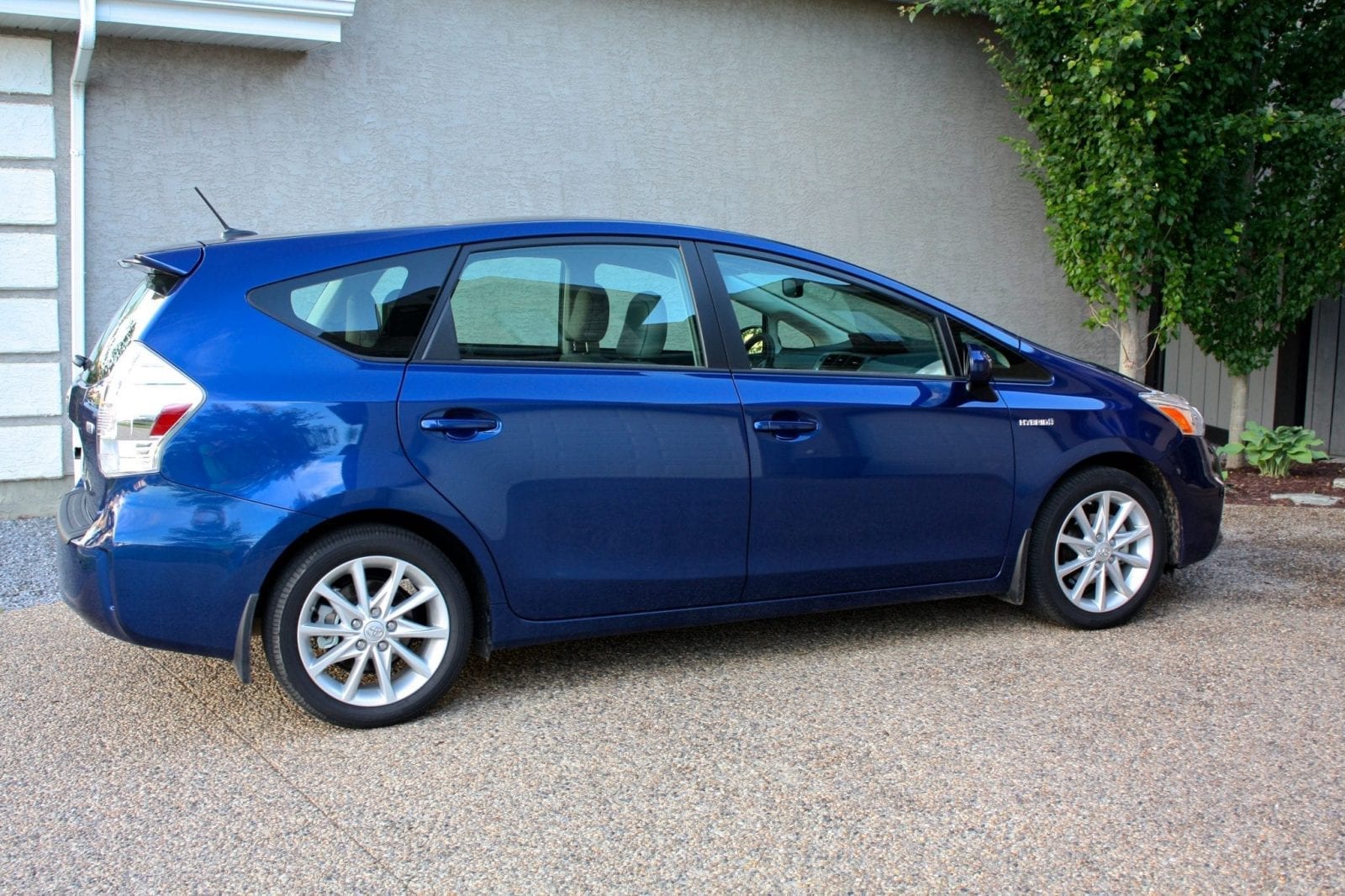 Exterior/Under the Hood
I'm a wagon/van nerd, so vehicles like this make me smile. I like the shape, and feel that it's quite an improvement on the normal Prius' hunchback style. The lines are clean, smooth and utility-based. Its proportions were stretched to make room where it matters inside, and it has evolved into something less ugly-duckling and slightly more wagon-like. The front end is adorned with nice high-tech headlight clusters containing LED projector lights, as well as foglights underneath. The rear lights are LED as well.
I liked the 17″ rims that come as part of the option package – the regular ones do look cheap, where these ones look good. The rear profile certainly makes this car look bigger than the regular Prius.
I noticed that this car got a lot of looks, and some people asked what it was – if you know your cars, you'd instantly recognize it as a Prius, but it might trigger the question "Why does it look different?"
It's a bulky thing, but if you look closely, much effort appears to have been made in order to make this a slippery eel in the wind. Aerodynamics were not overlooked here.
Under the hood sits the now-familiar 1.8-Litre 4-cylinder gas engine mated to Toyota's hybrid drivetrain. It puts out a net 134 HP, which is the same as the regular Prius. The car isn't light, but it's no porker either, considering the size and utility – it weighs in at 3273 pounds.
The magic happens when it comes to fuel consumption. It's rated at 4.3 L/100 km (55 mpg) in the city and 4.8 L/100 km (49 mpg) on the highway. I saw 5.4 L/100 km (44 mpg) with absolutely no effort to save fuel – it should be noted that it was at 5.2 L/100 km (45 mpg) until I took it on a little jaunt down the highway. I was taken aback by the smallish 45 Litre tank, but with numbers like these, even that little tank lets you get far.
Interior
When you get in, you'll notice that the interior must have been inspired by the popular book "50 Shades of Grey". But not in a spicy way. It's rather drab, and although there is a splash of metallicized plastic here and there, it does little to liven it up. Materials are middling – there is some padded, soft touch stuff thrown in, and textures are interesting and unusual – I wonder if they were going for the organic feel?
With that said, the interior is very roomy, comfortable and ultimately, highly functional. The synthetic leather seats were pretty, comfortable and surprisingly well-bolstered for a car like this. They are manually adjustable and heated. I found the headroom to be great, and the foot wells are spacious.
The steering wheel has the ability to influence a lot – it has controls for trip meters, displays, media, phone, handsfree and interior temperature! You can adjust it manually for tilt and reach and it's reasonably comfortable.
Behind the wheel is a very deep dash – a number of people commented on it, even from the outside. It stretches that far because of the raked-back windshield. There is nary a physical gauge to be found. The closest thing to it is the wide, hooded display bin in the center of the dash. I'm not a fan of center-mounted instrumentation, but I have to admit that it works well enough here. From left to right, this bin provides the following information: power/charge gauge, speedometer, gear selector display,fuel gauge, battery level, trip computer and clock. Yep – it's busy. But functional.
Below that, rather than a center stack, is a pod that juts out, with a chin – it reminds me of Lord Farquaad from Shrek. BIG CHIN! At the top, under that information bin, sits a 6.1″ touchscreen media system, and at the bottom (on that chin) you'll find an automatic climate control system. I really like the novel approach they used here – it's got some hard buttons, but most of the functions are accessed and adjusted using a rotary joystick knob. It's a good system.
On the left of the chin-pod you'll find the standard Prius push-button start, the "Park" button and the goofy joystick shifter thingy – I discussed the same set-up in my review of the Lexus CT-200h.
In the middle of the car, you'll find a unique take on a center console. I'll call it a console, but it's a high box and it ends abruptly about 2/3 of the way toward the "Chin Pod", dropping down to nearly floor level and offering open storage. On top is an armrest.
The interior can feel even bigger and airier than it is, because there is a dual sunroof overhead – when they are open, it lets a lot of light in and really makes a nice difference. The panels themselves don't open, but they have powered sunshades that open and close to brighten the interior.
Tech/Convenience
The basics are all here – power windows, door locks and mirrors. You also get automatic headlights with headlight washers – they're activated via a manual button on the dash.
The media touchscreen is very nice, and highly readable. I found it was pretty responsive, although not the quickest I've ever used. The combination of soft screen-based buttons and hard buttons around it worked well and were user friendly, as was the system running the screen. The navigation system as well as the voice recognition worked without a hitch, and the media system sounded very good. You can use AM, FM, satellite, auxiliary, USB and CD sources. Connections for the USB and auxiliary sources, as well as a 12 V plug, are located under the "pod chin", above the vertical slot for placing devices. Good thinking!
The Prius has touch-sensitive unlock, so if you've got the FOB on your person, you never have to manually unlock it – just touch the door handle, and you're in. Great for families, obviously, and you get spoiled with this.
There is a back-up camera feeding the screen, and there are HomeLink garage door openers.
The hybrid power train allows you to choose a driving mode – there's EV (which runs in purely electric mode, and won't last long unless you're creeping down the road slowly stalking someone), Eco mode, which is the standard mode as far as I could tell, and PWR – power mode makes the car seem significantly more powerful and it will actually jump off the line with more vigor than you might expect. I only tested it out, as I'm certain it affects your fuel economy, and I was just fine driving in Eco mode for everyday cruising.
Rear Seats
Here was a very pleasant surprise. The Prius V offers measurably more space, and it affords you lots of head, leg and foot room in the back, especially for the two outboard seating positions. A number of people were quite taken aback by the amount of headroom. There are 3 seats, with 3 seat belts and 3 headrests. Although the seats are quite comfortable, they offer virtually no bolstering. They are manually adjustable – sliding fore and aft, as well as reclining – a very pleasant surprise in this car.
The floor is flat back there, which is great, but the middle seating position's foot room gets eaten up by the center console, which sits quite far back.
It feels as though you're sitting slightly higher back there, so the view out is great. In terms of convenience, you'll find a flimsy dual cupholder that pops out of the back of the console. There are 2 seatback map pockets and small door bins with bottle holders. The middle seatback flips down to become a floating armrest.
3 kids will fit nicely, and you get 2 LATCH anchors for their seats. A third adult will feel a little cramped in the middle position, but 2 adults will be very happy in the main seats.
Storage
If you drop by here on occasion, you know that I'm a storage nerd. I use the nooks and crannies in my cars, and this stuff matters to me. I was duly impressed with the Prius V's use of space, and offerings in the storage department.
You get a large glove compartment, and above it, there's a second compartment in the dash with a flip-up lid.
Under that high center console armrest lid, you'll find a nice deep storage well with a sliding organizer tray – a very useful, versatile space. At the front of the console sits a single, deep cupholder – I wish it was slightly adjustable or had inserts in it, because the one-size-fits-all approach had this thing hanging on to my Starbucks Grande-sized drinks with a death grip! Sadly, the passenger has to make do with a flimsy pop-out cupholder in the dash, a la BMW.
Ahead of that raised console, where it drops down below the "pod chin", there's a large open bin, and ahead of that is a wide, vertical slot to drop phones, media devices, etc into – it's intelligently located below the input plugs. The door bins are small, and have integrated bottle holders.
In terms of cargo space and utility, the Prius V continued to impress me. The trunk is large and easily accessible. The load floor is relatively high (since the battery is under there), but you also get some nice organized storage spaces under the trunk floor for smaller items.
It has 34.3 cubic feet (971 Liters) of cargo volume with the rear seat up and slid in the rearmost position. Slide the rear seat forward and you expand that cargo room to 40.2 cubic feet (1138 Liters) – doing this creates a neat vertical space behind those rear seats, where you can put smaller bags, etc. Those are big spaces, but fold the rear seats down (they split 60/40) and you'll find yourself with a crossover-like 67.3 cubic feet (1905 Liters) of cargo room. You can move a lot of taxidermy projects with that kind of space. The trunk space can be covered by a removable, retractable tonneau cover and there's an extra 12V plug back there.
The Drive
My biggest tip to anyone driving a hybrid for the first time is don't drive it without the stereo on. The sounds these things make are somewhat disconcerting – there are some interesting whines, whistles, and other good things. Mostly they're the electric drivetrain, the regenerative system, and the things that make the fuel economy magic happen.
The Prius V is a decent car for every day driving. It's not fast, of course, but you don't buy this car to drive fast. In ECO mode, there's enough power to easily keep up with traffic, and if you put it in PWR mode, it'll actually feel quite sprightly – all things considered.
The CVT, as I've mentioned before, is my least favorite transmission and I simply hate the way a CVT car feels, especially how it holds the revs steady under throttle and drones on. It's barely noticeable during normal driving though, and that's a good thing.
The engine does get a little buzzy at higher RPMs, which isn't a knock against it really – it's a small 4-cylinder, and it's rare to find one that wouldn't do that.
The ride is good – it's firm but compliant and leans toward comfort over sportiness. Handling is surprisingly good, but comes with quite a bit of body roll.
The Prius V's ability to pass on the highway is somewhat limited, but with a little foresight, you can do just fine. With that said, it cruises very comfortably at high speeds – it's quiet and the ride is perfectly smooth.
Overall, this is a pretty quiet car – I did notice some intrusive road noise on occasion and I wonder if the low rolling resistance tires aren't the culprits.
The brakes, as to be expected with a car that uses braking energy to regenerate power, are mushy and have the slightly resistant, grindy feeling. You get used to it, and you realize it's a solid way of charging your battery – one of the trade-offs for this kind of mileage.
Outward visibility is great, except shoulder checking. Those rear haunches angle up, and they get in the way a bit.
Nitpicks
Strangely, the armrest is upholstered in plain black fabric. There's nothing else like it in the car, and they chose not to use a patterned or colored fabric – it doesn't match, and you have to think it won't stay nice and black for long.
It irks me when vehicles come with back-up cameras (which is great) and then they don't add distance markings on the rear-view picture. They make a huge difference in estimating where you're at, especially if there aren't rear distance parking sensors with audible beeps (which there aren't here). While I'm complaining, let's make those distance markings trajectory ones, that move with your steering wheel.
It's almost a generally accepted "technology" to be able to tap your signal stalk for 3 blinks for changing lanes, etc. Yet Toyota continues to shun this signaling goodness.
Details
The sunroof panels are made out of resin instead of glass. Why? Because they weigh 40% less than glass. Not only that, the powered sunshade will close automatically if its hot outside so the car can save energy later on while trying to cool it off. Smart.
There is a tiny slot in the dash to the left of the steering wheel. It's a space that grabs and holds on to one card, like a parking pass. I use a parking swipe card every day, and this is simply perfect for this. I loved it!
The Verdict
The Prius has always seemed like a niche product to some consumers. The granola-munching, tree-hugging, Greenpeace-supporting folk were the ones buying them and as long as they leave the rest of us alone, they can do whatever they want.
But I don't think Toyota ever set out to satisfy that crowd alone. The Prius was engineered to satisfy our planet's gasping for relief, and considering it does a great job on the fuel economy front, it's a step in the right direction. Sure, there are those arguments about what environmental damage the battery production and disposal brings, but I'm not here for that debate. I'm here to say the Prius line-up saves fuel, and offers a good car at the same time.
I've never been a fan of the original Prius (any generation) because of the styling. I like the new Prius C, which is their little urban warrior and gets the best fuel economy you can get in a non-electric vehicle. But I really, really like the Prius V. We are a family of 5, and this car works for us. We fit in it, we were able to transport an amazing amount of stuff (while still all being in the car), we were comfortable and we were barely sipping fuel out of the tank while doing all this.
I give the Prius V a 7 out of 10.
WAF (Wife Acceptance Factor) was surprisingly high. I thought she might consider it a nerd-mobile, but she really liked it. She loved the space to accommodate her daily shopping trips, she appreciated the lit vanity mirrors on both sides, and she liked how it drove. She did not appreciate the weird gear selector/park button situation, but I'm guessing anyone would just simply get used to that after a couple of days of driving – like I did.
If you're looking for a utility-sized vehicle, decently priced, that gets astounding fuel economy and offers a lot of tech and comfort, I wouldn't hesitate to recommend the Prius V. It is a car that I would consider a good buy, and if you're not in a hurry, you'll very likely be highly satisfied with it. Add to that Toyota's reputation for reliability, and you're looking at a smart purchase.
The Prius V is an honest vehicle. It doesn't tell you it's a sporty ride, or a fun car to drive. It's neither of those things, but it certainly offers a ton of space, function and tech goodies and it works very well as urban and highway transportation and it unquestionably completes its mission of saving you money at the fuel pump and doing a small act of kindness by Mother Earth.
Disclosure:  Vehicle was provided by Toyota.
If you enjoyed this review, feel free to check out my other vehicle reviews under the car reviews tab at the top of my blog.