Having already reviewed the "normal" C-Max, which is a hybrid, I was looking forward to spending some time with its more advanced brother, the C-Max Energi. What's the difference, you ask? The C-Max Energi is a plug-in hybrid. What that means in broad strokes is that you get a bigger, chunkier battery and a significantly more powerful electric motor, allowing you to drive as a pure electric car and when the juice runs out, you're left with a very fuel-efficient hybrid.
How much are they asking for something like this? Well, that's a bit of an issue. Unfortunately hybrids and plug-ins are still priced at a premium and even more unfortunately, I live in a province where there's nary a whisper of any form of rebate. Suffice it to say, you'd be paying nearly full pop here in Alberta, whereas the same vehicle could cost many thousands less in other provinces around the country.
Pricing: 2013 Ford C-Max Energi
Base price (SEL): $36,999
Options: $300 Ruby Red pain; $2500 Equipment Group 303 (premium audio, navigation, hands-free tech, power liftgate, rear camera, keyless entry, push-start ignition, parking tech, automated parking assist); $100 block heater
Freight: $1550
A/C and other taxes: $100
Price as tested: $41,549

Under the Hood
Here sits an Atkinson-cycle 2.0-litre inline-4 coupled with an electric motor, for a combined maximum of 195 horsepower. It feeds the power through a CVT (continuously-variable transmission) to the front wheels.
Obviously the point of this exercise is fuel economy. The Energi is rated at 1.9Le/100km (150 MPGe) City/Hwy Combined Electricity and Gas – a slightly confusing way of rating vehicles that use electric power. Anyway, however it works out, it's clear that they're saying it gets good mileage.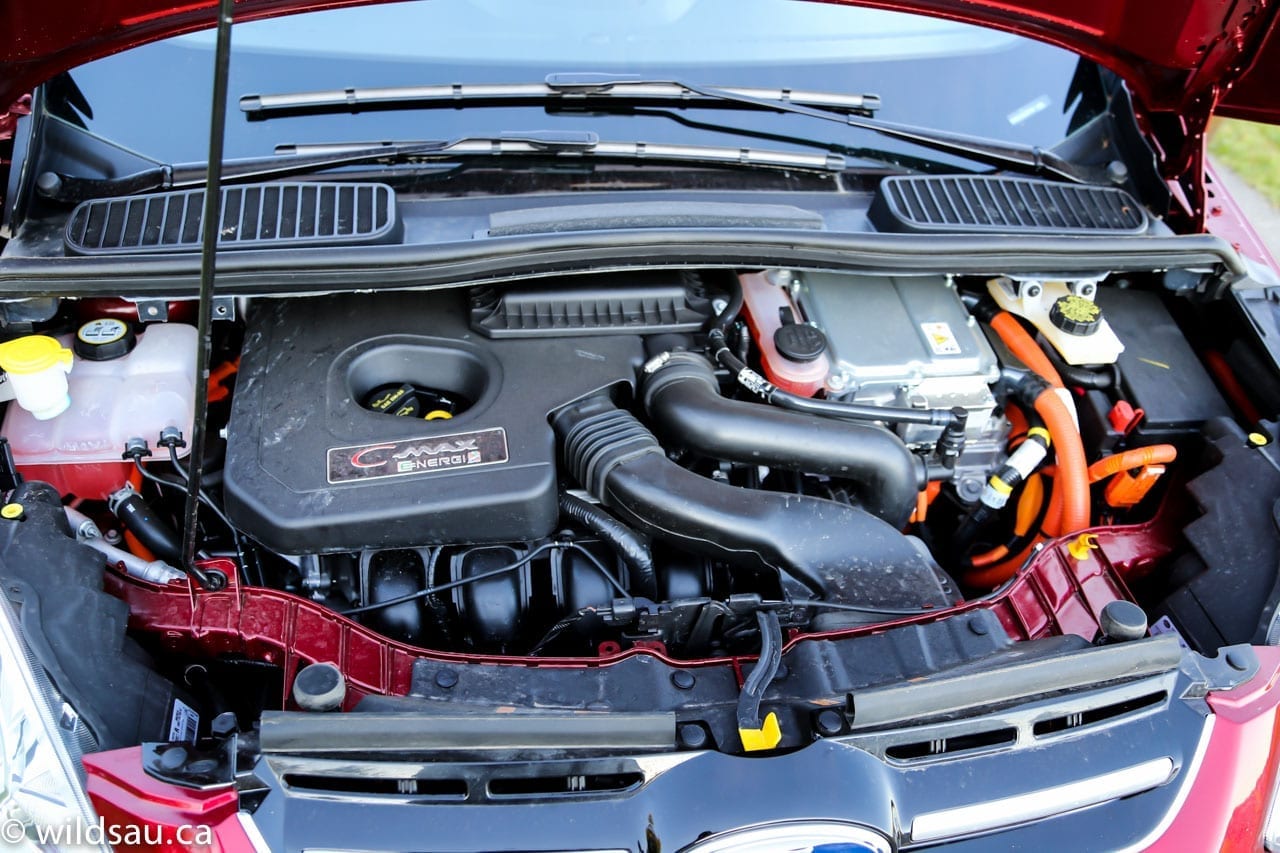 I plugged in for two nights, and drove most of the following two days on pure electric power, getting approximately 36 kilometres out of the pure EV mode before the battery ran out and I switched to hybrid driving. Whilst driving on electric power, you don't use any fuel. Like not a drop.
I averaged 4.2 L/100 km (56 mpg) for the balance of the time, while I was driving in hybrid mode. This was almost exclusively city driving which included a couple of freeway cruises, and I made absolutely no effort to save fuel. So yes, it does get spectacular fuel economy.
The Energi has a 53 litre tank and this complicated powertrain is dragging a very portly 3858 pounds around town.
Plug-In Hybrid Details
The Energi has a 7.5kWh Lithium-ion (Li-ion) battery versus the 1.4 kWh one in the regular C-Max.
It takes 7 hours to charge with a regular 120V household plug (which comes with the car) and only 2.5 hours on 240V using a special charger. I noticed that there's a bit of fan and electric gadget noise during charging and it gets very hot inside the car while you're charging the battery.
Ford says there's a maximum 43 km EV (electric vehicle) range – I got an average of 36 km out of each charge in normal city commuting. Apparently the top speed in EV mode is 137 km/h.
On the dash is an EV mode button – it lets you choose between EV now (use electric power as much as possible), EV later (reserve electric power for later and run on hybrid) or automatic mode – if there's a charge, it will use EV mode first, then switch to hybrid.
Exterior
I'm pretty lonely in this camp, but I like the looks of the C-Max. The overall shape evolved from the Focus, but there's a far more family-sized factor to it. It's chunkier from every angle. I believe I referred to it as Rubenesque.
The front sports Ford's corporate look, with the "I want to be an Aston-Martin or an angry carp when I grow up" grille opening. The headlights sweep back, and sit above nicely integrated foglights.
The roofline is smooth, and it drops down toward the back as it heads to the rear hatch. I liked how the lower window trim jogs skyward at the back and meets the roofline. It's not dramatic, but it's a nice detail. The huge rear tail lights wrap around the corners.
It's a shape that nobody would call pretty but it simply makes sense, considering what you'll find inside.
Interior/Tech/Convenience
If you've been in a new Ford in the last couple of years, you won't find any surprises inside. Nice soft-touch plastics, decent fit and finish and a pretty dark cabin. Very typical. It works well.
The headroom is astounding – I'm 5'10" and pending on how much time I spent on my coiffure, I have between 8 and 9 inches of headroom up front.
The heated, leather seats are quite comfortable, though I'd wish for some more bolstering. Only the driver's side is power-adjustable.
Ford's standard steering wheel – with buttons for media, phone, cruise and handsfree controls – sits in front of the large speedometer, which is flanked by two excellent driver information screens. The left one offers information on fuel economy, energy flow, vehicle settings, trip meters and a wealth of hybrid-centric information. The right screen allows you quick visual access to the media system, navigation and the phone.
At the top of the stack is the MyFordTouch screen. Its home screen splits into quadrants, handling your phone, the navigation system, the climate control and the media system. The Sony sound system sounds decent, and feeds off of AM, FM, satellite, USB, CD and Bluetooth streaming sources. Below the screen is a little media control knob, and underneath that, a dual-zone automatic climate control system.
There's a diagonal part of the center stack below which houses the gear selector. You'll find a traditional parking brake lever, a 12V plug, two cupholders and an upholstered armrest on the narrow center console.
There's some decent driver assistance technology. You get a back-up camera, augmented by moving trajectory lines and audible front and rear parking sensors. And speaking of parking, this C-Max was equipped with the Active Park Assist, which basically parallel parks the car for you and does a perfect job – every time.
The lift gate is powered and there's a HomeLink universal garage door opener. Entry is keyless, and the ignition is push-start.
Rear Seats
There are three seats, each with a headrest and seatbelt back here. There is lots of headroom and good leg and foot room. The outboard seats are fine, but the middle one isn't friendly to any adults that get stuck sitting in it.
There are adjustable air vents and a fantastic 120V household plug at the back of the center console, and the middle seatback folds down to become an armrest.
There are two sets of LATCH anchors for kids' seats, and our three children fit in the back very nicely and comfortably.
Storage
The C-Max's door bins are decent and there's a very deep bin under armrest lid, where you'll also find your USB plugs and a 12V plug.
Unfortunately the larger Energi battery takes a bite out of the cargo space. You're left with 544 litres behind the second row which is a reasonable amount of room, but significantly less than you'd expect in a vehicle like this. That can be upped to 1212 litres when the seats are folded down.
The rear seats fold flat, but not with the trunk floor – the battery sits quite a bit higher than the seatbacks when they're down.
My final note here is that the normal trunk space (we have three kids so we wouldn't be folding down the seats in regular use) would not be nearly enough for a road trip for our family, which would severely limit the utility of this vehicle. We go on a lot of road trips, so we'd be forced to buy additional roof-top storage to make use of this car on extended trips.
The Drive
Almost invariably, the C-Max has enough battery juice to run without the gas engine when you depress the starter, so there's no sound – you just have to look to the dash for the "Ready to Drive" graphic.
The C-Max has plenty of power for cruising around town, and if you get on the go pedal, it will move ahead smartly. It doesn't surge forward, but in a very smooth, CVT kind of way, it's certainly not going to leave you high and dry. Its mid-8-second 0-60 time is very good for a hybrid.
Everything it does is smooth, and the integration of the drivetrain and the CVT are no exception. Once the engine revs up under heavy load, it gets a bit buzzy, but honestly, unless you really need to get into a small gap in traffic or pass someone, you'll rarely be spooling the engine up. And it's the engine you'll hear, not the CVT. I never heard strange noises from the CVT.
On the other hand, if you feather the throttle gently, you can easily get going to 60 or 70 km/h on electric power alone, which is very impressive.
The full EV mode (available to you after you charge it) has plenty of power for normal everyday driving. For commuting, I never found the need for full power with the gas engine – it did fine in every situation, even on the freeway.
In any hybrid, the brakes regenerate a large amount of energy which flows back to the battery, and you can expect a spongy/grabby response from them. The C-Max's brakes extremely abrupt and grabby nature took me longer to adjust to than any other car I've driven.
I found the C-Max's ride to be quite good. It's firmly sprung, which affords it a measure of controlled grace with all that weight, but it's never too firm. The pay-off was that the car always felt nicely controlled and managed.
Though the handling is good, the C-Max always feels heavy. It has tenacious grip, but never feels remotely as tossable as the Focus does. With that said, you'll get a bit of body roll, but it's a car that takes curves well and doesn't complain when you throw it into them.
I really liked the fantastic visibility out of the car – there weren't any issues from any angle.
For the most part, the car's operation is quiet, remarkably so in EV mode, but I noticed some road noise on some surfaces – could this be attributed to the low rolling resistance tires?
I also noticed some whine off the line and when you're coming back down to a stop – is this the CVT? Or the electric drivetrain? It's not a big deal.
Nitpicks/Details
As with several other Fords now, I find myself irritated by the MyFordTouch ergonomics. That is, the screen is sunken into a little plastic cave in the dash, which makes it difficult to touch the corners. The corners are what controls MyFordTouch's main functions. Dumb.
The Verdict
I really liked the C-Max Energi. It is a very drivable car, and offers plenty of passenger space inside – and there's obviously no arguing with its ability to avoid using up gas. The question is, does it make sense? One needs to ask that question, especially at the breath-taking price. Even with provincial rebates, it's not a cheap date.
I guess it depends on what you're doing with it. If your daily drive is, let's say, 30 kilometres or less, the Energi will do its darndest to not use a single drop of fuel. And you'll likely be seeing your in-laws more often than your gas station. So, in this case, it's the right car. The fuel economy over the course of a year would be stunning. Of course, there's always the possibility that you might be able to charge it during the day, which could potentially give you a full charge by the time you need to drive again. Which would also be awesome.
But if you're driving more than the 30 kilometres, I'd say you'd be just fine with the regular C-Max. Noticeably more trunk space, a lighter car, and fantastic hybrid fuel economy – all to the tune of about $6,000 less than the Energi.
I give the Ford C-Max Energi a 7 out of 10.
WAF (Wife Acceptance Factor) was surprisingly high. She really, really liked it. She liked the shape (in a "cute-ugly" kind of way), because it was tall and spacious inside. She liked how it drove and she loved the powered liftgate. And for the first time in memory, she took an interest in the power train – and loved the fact that she could do her daily drive off a cheap overnight charge and not dip into the fuel tank.
Disclosure:  Vehicle was provided by Ford Canada.
If you enjoyed this review, feel free to check out more of them under my vehicle reviews tab at the top of my blog.