Oh, Lexus F Sport. You continue to confuse me. F Sport packages throw down with a visual sense of aggression but don't really match the look with significant performance gains. Yes, the vehicles might handle better, but some Lexus vehicles "upgraded" with F Sport suffer as a result. The RX 350 F Sport, for example – sure, it looks a bit meaner and might handle slightly better on the track (because so many RXs end up on the track), but the package also takes away some of the luxurious ride this large SUV is famous for. So what's the point?
Let's see if it makes more sense when it's paired with the IS then, shall we? Perhaps Lexus' smaller sport sedan is a better fit for F Sport.
Pricing
2014 Lexus IS 250 AWD  
Base price (250 AWD trim): $39,900
Options: $6250 F Sport Premium Package
Freight: $1995
A/C tax: $100
Price as tested: $48,245
Under the Hood
The IS 250 has received lukewarm reception from many driving enthusiasts. The lukewarmness starts on paper. It's tough to get excited about a 2.5-litre direct injection V6 that puts out 204 horsepower at 6400 RPM these days. Even tougher when it's only rated at 184 lb.ft of torque at 4800 RPM. Those are numbers that might have been impressive 15 years ago.
Lexus pairs the engine with a 6-speed automatic and, in this model, an all-wheel drive system. It's not a particularly large vehicle, but building a car well (which Lexus does) adds weight – this one weighs in at 1655 kg (3649 pounds) so it's no feather-weight. Unsurprisingly, the fuel economy isn't much to write home about. The 250 AWD is rated at 10.4 L/100 km (23 mpg) in the city and 7.3 L/100 km (32 mpg) on the highway. I drove the car pretty hard for the week I had it, and between that and dragging my butt along in stop and go commuting for the balance of the time, I did alright, averaging 10.3 L/100 km (23 mpg).
The IS' tanks holds 66 litres and this up-town girl drinks premium fuel.
Exterior
The F Sport IS has a very aggressive front end. The combination of sculpted, mean-looking air intakes and a lower air dam, the wicked grille (currently one of my favorites), stylized HID headlight pods and angrily-hooked LED driving lights combine to make for a memorable fascia and it got a lot of looks wherever I went. Of course, my review car's beautiful Ultrasonic Blue Mica color definitely helps grab onlookers' attention too.
The side of the car enjoys some nice sculpting as well, although the lines flow more and aren't nearly as expressive as they are at the front. It's a nice profile but it almost seems like a disappointment in contrast to the front end.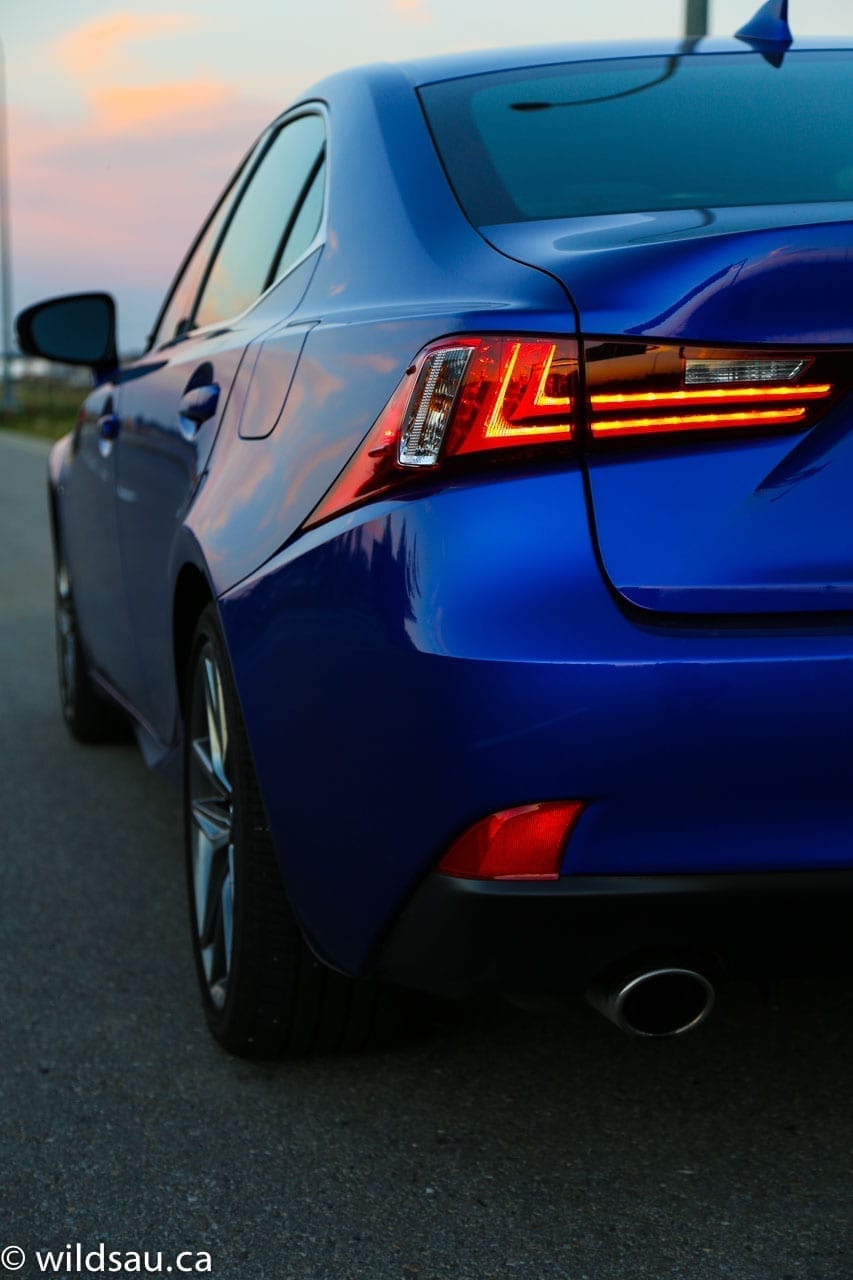 The rear end benefits from some cool LED light strips in the tail lights, but somehow the shape of the tail lights reminds me a bit of the Acura TSX. It's not a bad thing. Lexus finishes it off with a pair of beefy exhaust tips and nice wheels – 18-inch, 5-double-spoke, graphite finish rims shod with 225/40s in the front and massive 255/35s in the back.
Interior/Tech/Convenience
I enjoyed the cabin, with its beautiful up-scale materials, upholstered panels, contrasting stitching and interesting styling. The team continued sculpting inside, but it's not off the wall – just different enough to feel modern and fresh. You drop into the seats and sit low. Head room is okay, but it's a snug cabin overall.
Speaking of the seats – they're amazing. Great power-adjustable, heated leather sport seats that are very comfortable, very well bolstered and very nice to look at too. The heated steering wheel has controls for the phone, handsfree, media and driver information screen.
Behind it is a bin, but you won't find any traditional gauges there. There is a physical ring in the center of the bin, which contains a high-res screen that becomes your tach when you fire up the car. There's no speedometer other than the digital one.
Tap a button and that tach ring slides to the right, creating a nice driver information screen on the left side – there you can scroll through instant and average fuel economy, fuel range, eco driving indicator, tire pressure monitor, navigation, audio system information and vehicle settings. It's a cool toy, but it works well too. Here's a quick video of how it works…
The top of dash holds the main screen – it handles your media, the phone, navigation, vehicle settings and the back-up camera – and it is controlled by Lexus' unfortunate mouse-like Remote Touch.
Below it is an analog clock and a dual-zone automatic climate control system that uses touch strips to adjust the temperature. Not my favorite tech, but probably the best application of this that I've seen to date – take note, Lincoln. Underneath that are some rudimentary controls for the media system – it plays from AM, FM, satellite, CD, auxiliary, USB and Bluetooth streaming sources and sounds alright.
The IS center console is home to the gear selector (which is one of the best looking ones I've seen), the drive mode selector, the Remote Touch interface, two cupholders and an armrest. Entry is keyless, and you have a push start ignition. Above is a power tilt/slide sunroof.
Rear Seats
I was in for a real surprise when I opened the rear door. There are three seats (each with a headrest and seat belt) back there, and for a smaller sedan, the space is surprisingly roomy. I found excellent leg and foot room and acceptable headroom for my 5'10" frame – in the outboard seats. As is usually the case, the middle seat is narrow, hard and raised. There is also a huge tunnel on the floor that you have to straddle if you're sitting there.
Otherwise, there's not a lot going on back there – some adjustable air vents on the console and two seatback map pockets, and a middle seatback that folds down to become an armrest with a goofy slide-out dual cupholder. There are two sets of excellent ISOFIX anchors for children's seats, and all three of our kids fit back there and were quite comfortable.
Storage
There isn't a lot of space to put things around the cabin. You get a decent sized glove compartment but it is almost completely filled by the encyclopedia-sized owner's manual package. There is a small carpeted bin under armrest – the USB and auxiliary plugs are there as well as a 12V plug.
The trunk lid can be opened from the dash, your key fob, or a button on the lid itself – pop it and you'll find 310 litres of nicely carpeted space. The rear seats fold down in a 60/40 split to open a pass-through space, adding some cargo capacity if you need it.
The Drive
The engine never really pulls hard, although there's enough power for any kind of normal driving. The V6 is smooth and actually makes some nice sounds (for a V6) under load. I found that it starts to sound a little coarse over 400o RPM, though it never feels that way. It just moves smoothly through the rev range. If you need power for passing, it will take a second or two to downshift and build up the momentum, but it's not a slow car. Lexus' transmission is incredibly slick – it can be shifted manually with the gear selector or wheel-mounted paddles but the shifts are not particularly fast.
The ride from the tuned F Sport suspension is quite firm and got a bit chattery over some of Edmonton's back roads and potholes, but for the most part, it stays on the right side of comfortable. The trade-off is the handling, which is really good. The turn-in is sharp, controlled and the car stays quite flat. I found that the combination of a moderately heavy car, relatively low-power engine and an effective all-wheel drive system made it nearly impossible to use the rear end to steer. In the rain, even at higher speeds and with the traction control turned off, the car would still end up understeering around corners. Clearly traction is a non-issue.
Whenever I cranked the wheel a bit at lower speeds (like in a parking lot), there was a grainy, gravelly feeling coming through – I wasn't sure if it was the tires crunching on the pavement or if the all-wheel drive system binds a bit but it was very noticeable.
There are different drive modes – you can pick between Normal, Sport (which changes steering and throttle response but doesn't make a big difference in terms of making the car sportier), Eco and Snow modes. The IS' brakes are very good. They're always easy to modulate, powerful when you need them and not too grabby. Though it's a low-slung sedan, the visibility out of the car is pretty good, other than the rear headrests getting in the way a bit.
Details
I like thoughtful touches. For example, when you're closing them, the automatic power windows slow down for the last couple of inches of travel so they don't bang into the top of the frame. Nice.
I also liked the electronic de-icer for the windshield wipers.
The Verdict
The IS has seen success in the past, and there's no reason it won't continue to find buyers. The IS 350 is a bullet, but if you're okay with lesser performance and still want the looks and the luxury, the IS 250 is the answer. The legendary Lexus build quality is here, the technology and luxo factors are very nice, even without loading it up with expensive option packages, and  its capability on the road is undeniable. You can have fun, you can transport 4 adults comfortably and you'll look great doing it.
I give the IS 250 AWD a 7 out of 10.
WAF (Wife Acceptance Factor) was quite high. She really loved the exterior. The interior styling was also a big hit, but she absolutely hates the Remote Touch interface. My wife doesn't care much about power, and felt it had plenty of it for her needs.
When you look past the swanky color, the swoopy styling, the aggression oozing from the front end and the terrific handling, the F Sport IS 250 AWD actually turns out to be a practical vehicle. And that combination is no easy feat. It looks like F Sport has finally found a home it's comfortable in.
Disclosure: Vehicle was provided by Lexus Canada
If you enjoyed this review, feel free to check out more of them under my vehicle reviews tab at the top of my blog.