The refreshed 2015 Yaris is still a basic appliance, but now it looks like it means business. At least from the front.
Pricing: 2015 Toyota Yaris
Base price (LE trim): $15,965
Options: $1000 4-speed automatic transmission
Freight: $1,495
A/C tax: $100
Price as tested: $18,560
Exterior
Well, there's no getting around it, so let's talk about it. That front end. Honestly, the whole gaping mouth grille trend (which I believe we might have Audi to thank for) can't end soon enough. It's showing up all over the place, and the lowly Yaris hasn't been spared. Frankly, it's way overstyled in this application, reminding me a bit of an angry catfish with a fu-man-chu moustache. Or something. I don't know. It sure gets a lot of looks.
The rest of the car remains relatively straight-forward and simple, more befitting of a car like this. Toyota restyled the rear end too, giving the Yaris a new bumper and fresh tail lights. The white reverse light sits low and centered. The side profile is somewhat rounded, and it's plain jane – a good fit for an entry level vehicle.
You can option up to surprisingly nice 16-inch allow wheels if you want to but as it sat, my review car had tiny 175/65-sized rubber on 15-inch steel wheels with cheap-looking wheel covers.
Interior/Tech/Convenience
The Yaris remains pretty basic inside too. In a good way. People often chuckle when I review cars like this, saying stuff like "Oh man, it must be a drag to lower yourself to that kind of car for a week." But I find it refreshing to get into a car that offers everything I need and nothing more.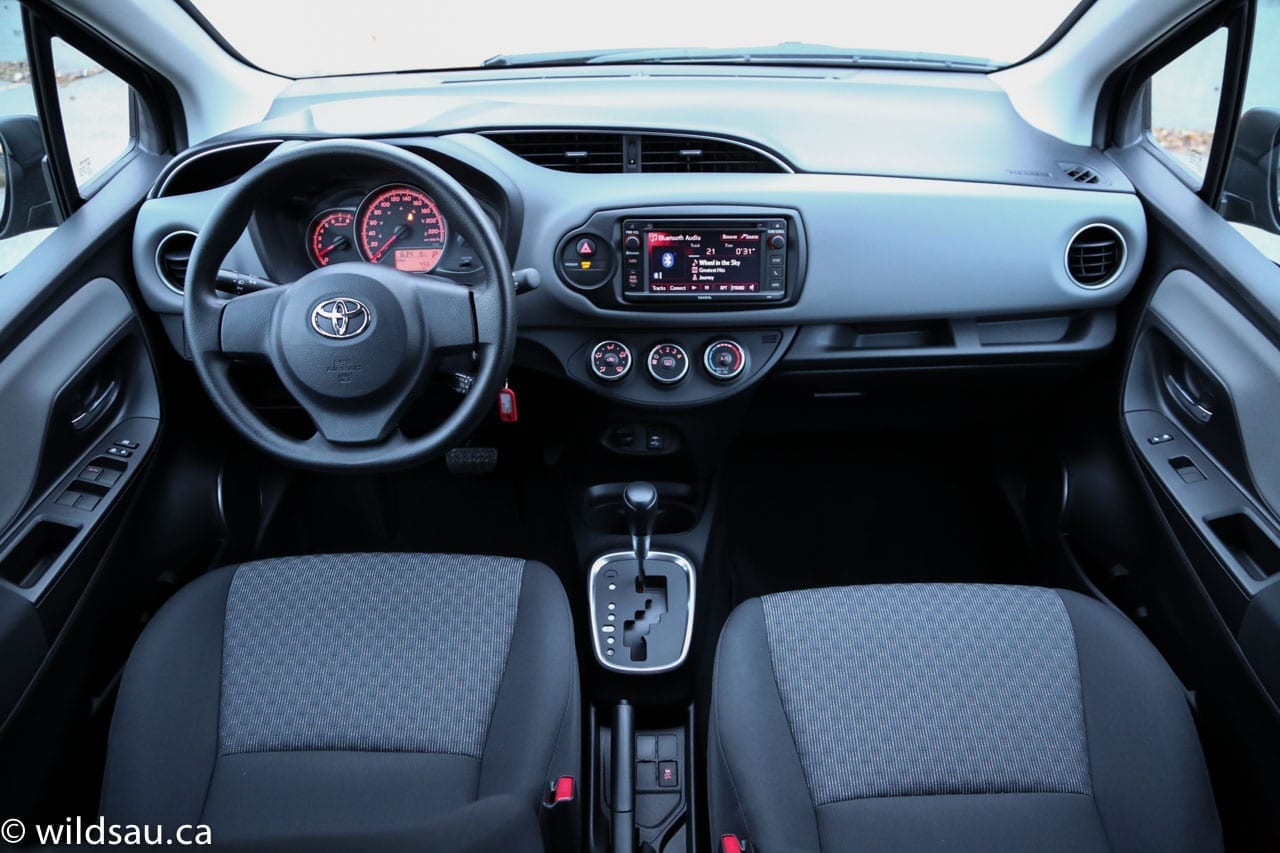 Materials are entry-level, of course. Lots of dark, shiny plastics, with a swath of weird, rubbery elephant-skin-like padded material that runs the width of the dash and onto the door panels. All the basics are powered – door locks, windows and mirrors – and you have remote lock/unlock buttons on the key.
As with any bulbous hatchback, head room is simply amazing. As small as the Yaris is, it feels plenty big inside. Well, in the front anyway. Styling is improved and has been taken slightly upscale but remains simple and effective. I could see everything from where I sat, and I could reach everything too. That's more than I can say for other vehicles.
I didn't mind the seats and found them more comfortable than some in cars costing twice as much. They're fabric, manually adjustable and even provide decent bolstering. Speaking of refreshing, occasionally it's nice to use a steering wheel without buttons, and that's what you get in this Yaris. Everything is very much within reach, and I never missed the busy-ness of a buttoned-up steering wheel. The wheel adjusts for height, but doesn't telescope in or out. Behind it is a clean gauge cluster featuring a large central speedo, tach and fuel gauges on either side, and a basic but highly useful trip computer screen which details your fuel range, fuel economy, trip meters, etc.
The middle of the dash houses a decent little 6.1-inch touchscreen which handles your audio system and your phone functions and has a pretty user friendly interface. The stereo feeds off AM, FM, CD, auxiliary, USB and Bluetooth streaming sources and doesn't sound very good. Underneath the screen is a three-rotary-dial climate control system with air conditioning.
Rear Seats
Surprisingly, Toyota does make this tiny car a 5-seater, so yes, there are three seats in the back, each with a headrest and a seatbelt. You are rewarded with good head room but the leg room obviously suffers. Sitting behind myself (I'm 5'10"), my knees were pressed against the back of the seat. Your feet will have room under the seats, so that helps a bit and so does the flat floor. And the middle seating position sucks for anyone but a small child.
Even our three kids were unhappy sitting in the back – with all of them in there, it felt cramped. It would be just fine for two children.
Storage
Small cars need to come up with solutions around the cabin to stick your things, and the Yaris does well. The centre console, which is quite low, has a few open bins and two cupholders near the front (above them are auxiliary, USB and 12V plugs for your phone or media devices). At the back of the console is a large round hole, which could be a cupholder for a huge Slurpee or a small storage bin for rear passengers.
There's a bit of a bin on the top of the dash, to the left of the gauges – but it's a bit useless as it's not big enough for a phone. Not sure what I'd put in there. There are similar drop-in bins on the right side of the dash as well. The glove compartment is reasonably sized and the door bins are useful too.
Pop the hatchback and you have a small 286 litre trunk to work with. It has a nice high load floor, and a hard parcel shelf to add some flexibility. You can significantly increase the capacity (though Toyota doesn't tell us by how much) by folding the rear seats down – they split 60/40.
Thanks, Toyota, for adding a grab handle inside the trunk. I've recently reviewed cars costing way more that didn't have one, so I appreciate this little but very useful detail. Without it, your hands will get dirty in the winter. And that just sucks.
Under the Hood
There are no surprises here – the engine bay is a carry-over from last year. A 1.5-litre 4-cylinder sneezes out 106 horsepower and 103 lb.ft of torque. The power is sent through a 4-speed automatic transmission to the front wheels. Now let's just take a minute to discuss the transmission. Four speeds? Only four speeds? Honestly, cars had 4-speed autoboxes 20 years ago. Not only are these transmissions ancient technology, but the consumer gets charged a thousand bucks for it. That's a kick in the pants, Toyota.
Fuel economy is fine, but not amazing. The Yaris is rated at 7.8 L/100 km (30 US mpg) in the city and 6.6 L/100 km (36 US mpg) on the highway. I averaged a far more pedestrian 8.8 L/100 km (27 US mpg) driving normally, which I didn't find very impressive. There is an ECO indicator in the gauge cluster, letting you know when you're driving economically.
The Drive
An entry level car isn't going to surprise anyone with its performance. It's slow, but as with most basic cars, the Yaris has enough power to trundle around town and keep up with traffic. You'll need to leave yourself enough time and room to do some passing on the highway, but otherwise it's got what it needs.
The 4-speed automatic isn't going to knock your socks off. It's slow and ponderous at times, but the shifts are acceptably smooth. If you care to, you can manually shift it by moving the gear selector through an old-school gated mechanism. Remember those?
I did notice that the Yaris is noisy. Under throttle, the engine is loud and the higher the RPMS, the louder and thrashier it gets. And the road noise is significant and incessant. It's always there, increasing to intrusive levels when you hit the freeway. You'll need to speak up to be heard, which would make it a taxing vehicle for longer road trips. I also found the vehicle would often vibrate while sitting in gear at a red light.
It's a small car with a short wheelbase, but with that taken into account, the slightly bouncy ride is actually pretty good. Yes, hits get transferred into the cabin, and no, it's not luxurious, but it's refined enough. Handling is pretty great. The car leans into every corner, but it's easy to throw into a new direction and can actually be kind of fun to drive. Its size helps it feel agile and chuckable. The 2335 pound curb weight doesn't hurt either.
The brakes are fine and the visibility out of the car is quite good, although the rear headrests will interrupt your rear view a bit. If you do take the Yaris on the open road, this trim level comes with cruise control.
The Verdict
Toyota has always done the appliance vehicle well. A no-frills, ridiculously-reliable, fairly-priced appliance is exactly what some people want. The Corolla is the deluxe version, the Yaris is the entry-level appliance. Both do their jobs very well.
WAF (Wife Acceptance Factor) was below average. She felt it was way too noisy, and wanted a bigger back seat for the kids and a bigger trunk for her shopping addiction.
The Yaris will get you from point A to point B in relative comfort. It won't cost you a lot of fuel. It won't cost you a lot of money. And it will undoubtedly fire up every morning faithfully for years, so it won't cost much more to maintain it either. If that's what you're after, you really can't go wrong with the Yaris. And now, that new front end lets people know you mean business.
Disclosure:  Vehicle was provided by Toyota Canada.
If you enjoyed this review, feel free to check out my other vehicle reviews under the car reviews tab at the top of my blog.