The hatchback Honda Civic is the best version of a fantastic car.
Review and photos by Tom Sedens
Click on any picture to see a larger version.
Honda has really knocked it out of the park with their latest Civic. It is an outstanding car in almost every way, and for the most part, a great value too. I reviewed the new hatchback version this time around, and was smitten once again.
Exterior
The most subjective part of the new Civic experience is definitely the styling. I applaud Honda for stepping into unfamiliar territory and taking a few risks. Certainly the Transformers meets origami lines the designers penned won't be for everyone. I like it and my kids loved it!
To accentuate the car's sportiness, Honda went with huge fake intakes in the front air dam and outlets in the rear fascia – they do take a minute or so to adjust to, but they really do lend an air of aggressiveness to the Civic. In the front, even on this base hatchback, there are LED daytime running lights – the rear end gets a cool set of LED tail lights, encased in bracket-style lenses.
The hatchback gets two rear spoilers for good measure – one at the rear roofline and one that bisects the rear sloped window. The 16-inch alloy wheels are nice, and the 215/55-sized rubber is all you need for outstanding performance.
Interior/Tech/Convenience
Honda has really stepped it up in terms of the Civic's interior materials, and while everything is pretty dark, the nicely textured soft-touch dash feels like a premium touch. Front and centre is an all-digital speedometer screen with an integrated driver information system that allows you to display trip computer stuff, audio information, phone and even a turbo boost gauge. Slick stuff.
The heated fabric front seats are very comfortable and very well bolstered, encouraging the driver to throw this car into the curves. The dash is home to a now-familiar 7-inch touchscreen that manages your phone, audio and car settings. I did miss the volume knob – there are no hard buttons to be found around the screen. Honda tried to make up for it with a cool capacitive touch-strip on the steering wheel that lets you quickly slide your thumb along it to change the volume. It's a brave new world! The entry-level 180-watt 8-speaker feeds off any number of sources, including Apple CarPlay/Android Auto and sounds quite good. You also get an automatic climate control system.
A rear-view camera is standard equipment. If you opt for the Honda Sensing suite of driver assistance technology, you can get even the base hatchback with a surprising amount of driver assistance technology, much of which was reserved for high-end vehicles just a year or two ago – forward collision warning and collision mitigation braking system, lane departure warning and lane keep assist,  road departure mitigation system, even adaptive cruise control with low-speed follow.
This trim comes with an old-school key with remote locking capabilities.
Rear Seats
Civics are small cars, so one can be forgiven for not expecting a world of rear seat room. Unsurprisingly, the head room was just enough for me, at 5'10". However the leg and foot room was quite generous and I found the back seats to be quite comfortable. There aren't any luxuries for rear-seat passengers, other than a middle seatback that folds down to become an armrest with two cupholders.
If you're transporting little ones, there are two sets of LATCH anchors for child seats.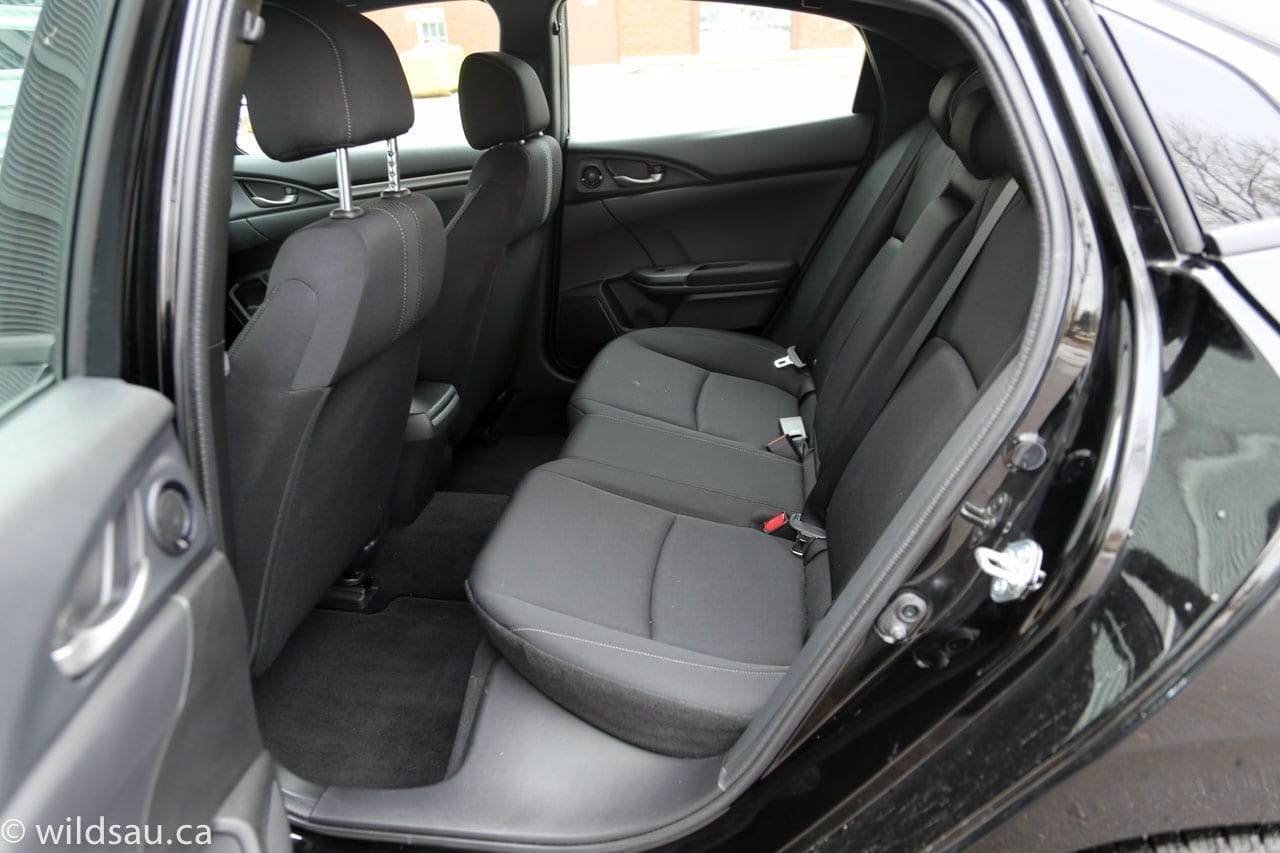 Storage
Honda has given the Civic a configurable bin in the centre console. It contains a deep well which houses some cupholders (that slide forward and back), a USB plug and a sliding armrest lid that flips up to reveal further organizational bits and storage – all of which makes for a very flexible and useful space. If you need more places to put your stuff, there is also a large rubberized area at the front of the console ahead of the shifter – there is a cut-out to route cables from underneath where you'll find plugs (USB and 12V) and another large rubberized drop-in bin.
But the  real storage story in the hatchback is in the trunk. It's large at 728 litres, and with the rear seats folded (they split 60/40), you're looking at a cavernous 1308 litre space. Honda adds a nifty little retractable cargo cover that scrolls across the open area sideways. It's also removable.
Under the Hood
Honda's little front-wheel drive hatchback is powered by a turbocharged 1.5-litre 4-cylinder putting out a very respectable 174 HP at 6000 RPM and even better, 162 lb.ft of torque at 1700 RPM. You can get the Civic with a 6-speed manual, but my review car was equipped with the optional CVT.
Fuel economy is stellar – Honda rates this car at 7.7 L/100 km (31 US mpg) in the city and 6 L/100 km (39 US mpg) on the highway. It didn't matter how I drove the Civic, it seemed that I couldn't convince it to use more fuel. Including a week of winter driving, with plenty of city commuting, I averaged a very impressive 7.7 L/100 km.
The Drive
First, the Civic hatchback is fun to drive. Its handling capabilities are simply terrific. The steering is fantastic, turn-in is immediate and the car stays flat around corners. It feels like it wants to play, and its limits are surprisingly high. What's even more surprising is how comfortable and refined the ride is.
The turbo engine puts out enough power, and performs very well when coupled with the CVT. The transmission has Sport and Low modes – the first keeps the revs higher, the latter limits the car to a lower ratio, as if it only had second or third gear if it were a conventional automatic transmission.
Typical for a Honda, there is also an ECON mode. However, unlike in some other Honda models, this mode remains surprisingly drivable while trying its best to save you some fuel.
Honda has done quite a bit of work to dampen the noise levels. There's still a bit of road noise, and the powertrain gets pretty loud when you step on the gas. Visibility is good out of the front and sides, and decent out of the back – thanks to the split rear-view and the addition of the vertical glass pane in the hatch.
The Verdict
I love that Honda sent me the base version of the hatchback, as it makes it clear how great of a value the new Civic really is. I found that the Civic comes incredibly well-equipped in entry-level trim. Honda makes a big deal about how the hatchback stacks up against the sedan, and it really is a great buy. This base LX trim of the hatchback gets the turbo engine, versus the sedan's non-turbo. That nets you an additional 16 HP and 24 lb.ft of torque. You also get alloy wheels instead of plain steelies. And that hatchback gives you another 300 L of cargo space off the bat. These are very good things.
WAF (Wife Acceptance Factor) – she was not a fan of the styling, but really liked driving it. She said it felt surprisingly expensive in how it rode, and for a "cheaper" car, it was very nice.
Honda has built a wonderful car in the new Civic. And the hatchback is the best of them. It's so much fun to drive, yet doesn't compromise in terms of refinement, utility or value. I couldn't recommend it more. And hey, if these are all great things but you want more jam, the 2018 Civic Type R is just around the corner – with over 300 horsepower and styling that belongs in the next Star Wars movie. It's a good time to be a Civic fan.
Disclosure:  Vehicle was provided by Honda Canada.
If you enjoyed this review, feel free to check out my other vehicle reviews under the car reviews tab at the top of my blog.
Pricing: 2017 Honda Civic Hatchback
Base price (LX trim): $21,390
Options: none
Freight: $1,736
A/C tax: $100
Price as tested: $23,226