One of the best-looking crossovers on the market also happens to be one of the best crossovers on the market.
Review and photos by Tom Sedens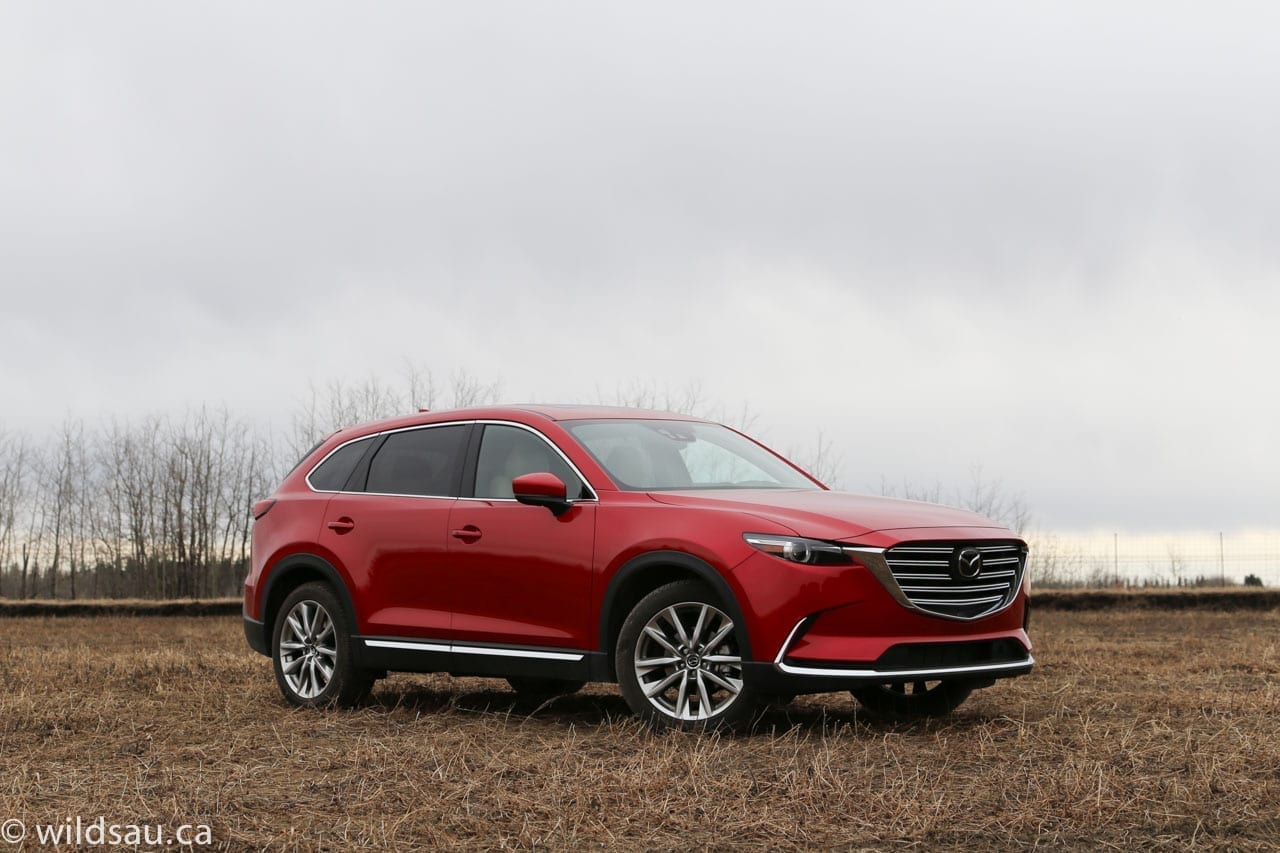 There comes a time in every calendar year in Alberta where we judge a car not just by its looks and by its performance. It is spring, and it is when our continuous cycles of freeze and thaw start heaving the road surfaces asunder. The result is a labyrinth of giant potholes that you can either try to navigate while not bouncing off the drivers in the lanes beside you, or plow directly through them and hope your vehicle does not get torn apart. Often while doing your best to do the former, you are forced to do the latter for lack of options. And it is in these times that an SUV's Alberta-worthiness is forged or forgotten. As our snow and ice cleared (before starting all over again with a couple of new snowstorms), Mazda's gorgeous CX-9 had its work cut out for it. But it heroically dodged the canyons and ruts on Edmonton's streets and remained a bastion of comfort and safety.
Exterior
Did I just say gorgeous? When describing an SUV? Yes. Yes, I did. The CX-9's exceptionally attractive design language results in a fantastic-looking SUV with plenty of presence. And it gets a ton of attention because of that. Many people walked over in parking lots to ask "What is that?!" Two people asked me if this was the new Acura. Alrighty then. The vehicle looks great from any angle, and my review sample's Soul Red Metallic looked stunning. The grille in particular is something to behold, fusing aggressiveness and attractiveness in a way that is rare, especially in this somewhat stodgily-styled vehicle category. Interestingly, it seems the front end is quite polarizing. I've published a review of this vehicle elsewhere and the responses were very love-it or hate-it, particularly around the front end. Well, I love it! The GT trim has plenty of LED lighting – head lights, as well as the driving lights and tail lights.
There's something else too – at night, the bottom of the grille gets a strip of LED lighting in the Signature trim, and it looks really cool in my opinion. And the wheel wells are filled with delicious 20-inch rims shod with chunky 255/50-sized rubber.
Interior/Tech/Convenience
Once you get inside, you will find more nice styling although it feels more conventional than the exterior. It's not a bad thing, but there's nothing ground-breaking here. Mazda uses nice materials throughout. To quote Mazda, the Metal Wood trim combines the warmth of wood with the strength of metal. I'm not exactly sure what that means, but the wood looks very real and very good. And there are genuine brushed and chrome-finish aluminum trim pieces. We thought the two-tone interior provided a lovely contrast with its light coloured seats and door panels.
The front seats are very comfortable seats, upholstered in leather and heated. Step up to that Signature trim and they're crafted out of Nappa leather – and that wood I talked about before is genuine rosewood! The sharp 8-inch touchscreen (which can also be controlled with Mazda's HMI input knob) is laid out and works pretty well, although this is not my favourite user interface. It includes a navigation system and a truly excellent 12-speaker BOSE sound system with crisp highs and full lows. I have to give the outstanding voice recognition system a shout-out. It never failed me a single time, including recognizing full navigation destination addresses. The CX-9 has a three-zone climate control system too. There is a small carpeted bin under the armrest's clamshell lid with a couple of USB plugs.
Optioned as my vehicle was, it came with a bevy of driver assistance technologies – wide-angle rear view camera (which irritatingly does not have trajectory lines to help with parking), rear parking sensors, a nice crisp heads-up display, blind spot monitoring, rear cross traffic alert, smart city brake support (which is front-end collision avoidance technology), radar cruise control, forward obstruction warning, lane departure warning and lane keep assist. Everything worked seamlessly and never became intrusive.
Second and Third Row Seats
The CX-9's second row has three seats and feels very spacious with plenty of head and leg room. I always appreciate an abundance of foot room under the front seats which makes a big difference on road trips. The seats are truly comfortable and even recline. The middle seating position, while narrow and raised, is big enough to work for an adult so you could move three adults in the second row in relative comfort.
Second row passengers get their own climate control panel as well as manual sunshades on the side windows. But the nicest touch is the middle seatback that folds down to become an armrest with a couple of cupholders. That's not unusual at all, but when you pop the lid to the storage compartment, you'll find a carpeted bin and two charging 2.1 amp USB plugs. Yes!
Mazda tells us that the CX-9 has more second and third-row leg room than the Toyota Highlander. That may be, but the third row is simply not made for adults. I was not able to sit in the third row without moving the second row up so far that it became unusable. When I was back there, I didn't have enough head room, and there's very limited leg room. So it's really for your small people or for occasional/emergency adult use. With that said, our kids were quite happy and comfortable back there. Third-row passengers get cupholders and that's about it. When the third row headrests are up, we found that they really intrude into the driver's rear view.
If you're transporting smaller children, you will find two sets of LATCH anchors in the second row, and none in the third row.
Cargo Space
Higher-trim CX-9s get a power lift gate, and the trunk felt very large and accessible. There's a sizeable 407L with the rear-most seats in use, but if you fold them flat (the third row splits 50/50), that becomes 1082L. Drop the second row too (it splits 60/40) and you're able to use 2017L of space. Mazda also adds some outstanding underfloor storage.
Under the Hood
The smallish-by-SUV-standards turbocharged SKYACTIV 2.5L 4-cylinder puts out 250 HP at 6000 RPM and more importantly, 310 lb.ft of torque at 2000 RPM. It gets a 6-speed automatic transmission and and advanced, active torque-split all-wheel drive system. Fuel economy is one of the CX-9's strong suits, and it's rated at an impressive 11.5 L/100 km in town and 8.9 L/100 km on the highway. We averaged 11 L/100 km during our week with it, which included a ton of city driving through some fresh snow. Of note, the CX-9 runs just fine on regular fuel, but puts out slightly less power (227 HP).
The Drive
The relatively tiny engine has tremendous power, thanks to the best-in-class standard torque numbers. It's great around town, and when you step on it, it really reacts quickly and smoothly, pulling hard through the rev range. Passing on the highway is done with ease. I did find that the engine showed a touch of coarseness when it was revved up – nothing bad, but not quite as smooth as the V6s you often find in this vehicle class.
The CX-9's transmission has a Sport mode (which makes it feel more responsive and holds on to gears a lot longer) and can be shifted manually using the gear selector. The manual shifts are unexpectedly (for this vehicle class) quick and satisfying.
I was very impressed with the suspension. The ride is firm enough so it never feels floaty or sloppy, but it remains luxuriously smooth in most driving situations and as I mentioned, it soaks up all kinds of road nastiness. With that said, the combination of a sportier suspension and the low profile tires end up making it a tad noisy over the biggest asphalt imperfections, which you'd likely be avoiding anyway.
Mazda sells this as the driver's SUV and it really is a pleasure to drive. The handling is competent and predictable, and although there's plenty of body lean, it's actually a pretty fun ride as far as 3-row SUVs go. The all-wheel drive system did a fine job during spirited driving as well as holding its own in fresh snow, although it is clearly front-wheel drive based and you'll notice the front tires slip slightly before the system kicks in.
Details
We enjoyed the sunroof overhead (although it's not a big panoramic one) and the heated steering wheel, and if you're pulling things around with your SUV, the CX-9 has a 1,588kg (3500 lb) towing capacity.
Nitpicks
I don't know if I'd call this a fatal flaw, but I noticed this immediately in the previous CX-9 I reviewed, and it reared its ugly head in this one as well. Mazda seems to have endowed the new CX-9 with an exceptionally weak air-conditioning system. On any warmer (or plain hot) days, it struggles to cool the cabin. That sounds minor, but it's not. And on a road trip, or in a warmer climate, this would be a deal breaker for me. You'll need to evaluate how important that is to you, but it's a significant issue to me.
What's missing? Well, for a top of the line SUV in this class, you might expect ventilated front seats or heated rear seats, but they're not here. Mazda hasn't put a household plug in the CX-9 yet, which would be a nice next step in terms of juicing up electronic devices.
The Verdict
Mazda has crafted a stunner here, and filled it with plenty of technology, made it supremely comfortable and luxurious and added a ton of utility. What more can you ask for?
WAF (Wife Approval Factor) was sky-high. She said it's the nicest SUV she has seen in a long time, and loved how easy it was to drive even for its size.
If you're in the market for a three-row SUV, put the CX-9 on your list. It's a rewarding vehicle to drive, whether you're doing battle with Alberta's potholes or not, and it's a solid value as well.
Disclosure:  Vehicle was provided by Mazda Canada.
If you enjoyed this review, feel free to check out my other vehicle reviews under the car reviews tab at the top of my blog.
Pricing: 2017 Mazda CX-9
Base price (GT trim): $45,500
Options: $1,900 Technology Package
Freight: $1,895
A/C tax: $100
Price as tested: $49,395