A great sports car with an interesting twist (on top).
Review and photos by Tom Sedens
Pricing: 2017 Mazda MX-5
Base price (RF GS trim): $38,800
Options: $4,400 Sport Package; $300 Soul Red Metallic paint
Freight: $1,795
A/C tax: $100
Price as tested: $45,395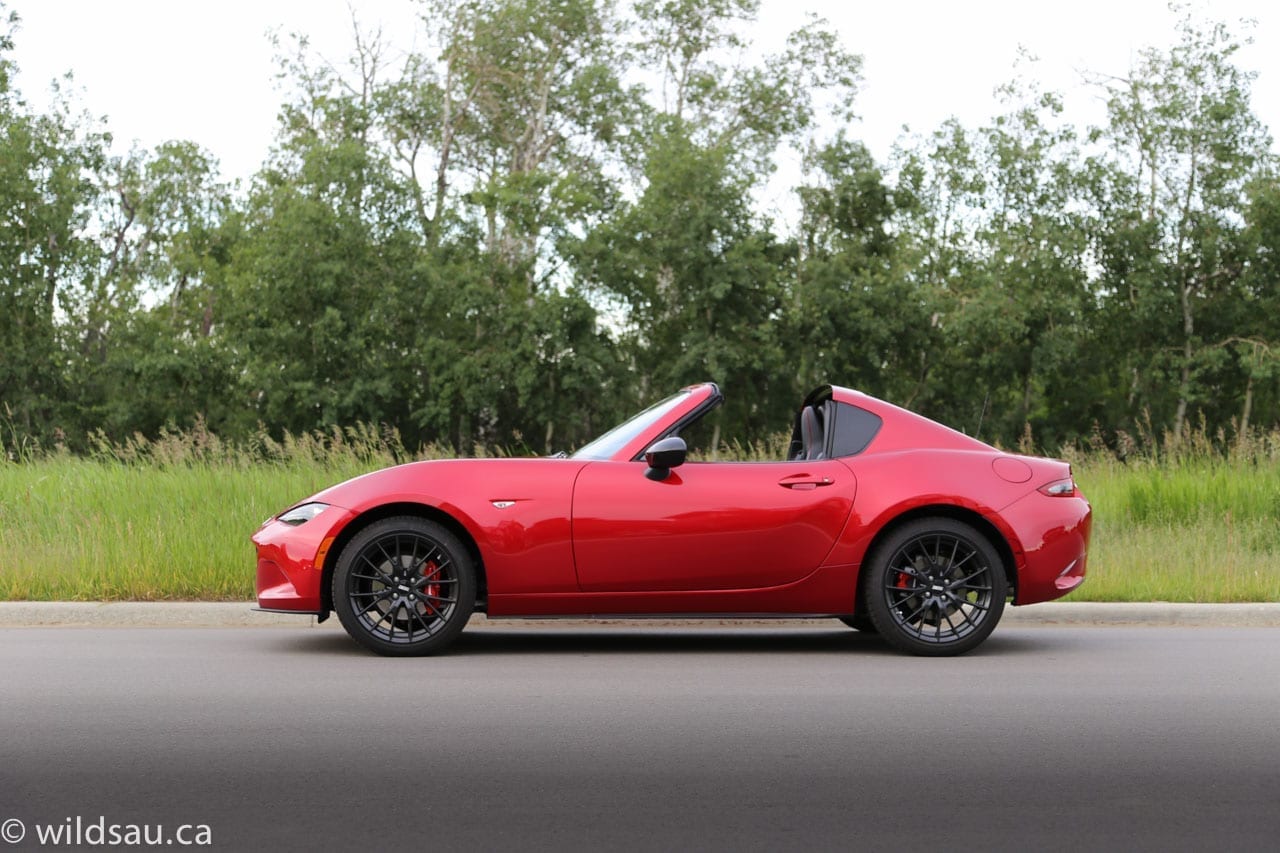 What's the difference between a regular MX-5 and an MX-5 RF? Well there are two. One is the power hard-top panel that tucks itself away (very quickly, may I add!) for an open-air driving experience. And the second is that the RF gets a lot of double-takes from people on the street. I was shocked at how much attention this little car got.
Exterior
While the lower part of the MX-5 RF is the same, the roofline is quite different. It looks fantastic with the roof up or down. With the panel in place, it looks like a nice, clean hardtop coupe. With the panel hidden away, the RF benefits from a slick rear bracket that incorporates structural elements as well as wind-flow management. It looks lovely either way and the inside of the roof panel is nicely upholstered.
This generation of MX-5 has really benefited from some outstanding styling cues. The front end looks much more aggressive instead of sporting that goofy grin. LED running and signature lights augment the front. The pronounced fenders are delightful, and add an air of muscle to the package. Otherwise, it has the clean, smooth lines you expect, and it feels like there is nothing added that isn't necessary. The 205/45-sized tires are mounted on some sweet dark-finish forged alloy BBS wheels, and the Soul Red Metallic is a perfect fit for this car. It was a big hit with me and with many people who came to check the car out.
Interior/Tech/Convenience
The MX-5's cabin is tiny, obviously, but it is spacious enough to be comfortable. You never feel cramped, and there's plenty of head room for me at 5'10". The materials are middling – there's plenty of hard plastic – but the design is tidy and ergonomics are great.
The highlight for me was the incredibly-supportive and surprisingly comfortable Recaro seats (heated and clad in Nappa leather and Alcantara). There's a floating 7-inch screen (which is controlled by Mazda's HMI rotary joystick knob but also functions as a touchscreen) which manages your phone, sound system and navigation. The climate control system is manual.
Storage
The MX-5 is no road-tripper, but Mazda does what they can to offer a bit of storage around the cabin. There's a tiny bin under the armrest lid, a rubberized bin at the front of the console (with two USB plugs) and the "glove compartment" on the vertical portion behind your elbow.
There are also "cupholders" which are these weird things that pop into slots in the console. They do work though, and the passenger's can be moved to the right side of the centre console too. I think the message here is "you don't need no stinkin' coffee in this car". The 127L trunk is big enough for a grocery run or a couple of duffle bags, and it's not impacted by the roof panel when it is down.
Under the Hood
The MX-5 retains its traditional front-engine, rear-wheel-drive layout and my review car thankfully came with a 6-speed manual transmission. The car's motivation comes from a 2.0L 4-cylinder that makes 155HP at 6,000 RPM and 148 lb.ft of torque at 4,600 RPM. Fuel economy is stellar, at 8.9 L/100 km in the city and 7.1 L/100 km on the highway. It uses premium fuel, but it doesn't drink too much of it. I averaged 7.3 L/100 km during my week with it, where I often drove with a heavy foot.
The Drive
I love the snarl the MX-5 emits upon firing it up. The MX-5 isn't a particular fast car, but it feels quick. On paper, the numbers are not impressive. But that's not what the MX-5 is about. It never has been. It reacts to your inputs immediately, and often feels like it can read your mind. Acceleration is quite brisk when you step on it, and it makes lovely sounds too.
The manual transmission is perfect for a car with sporting pretensions. The clutch's take-up is smooth and clean, but accurate enough to make the most of any launch and any shift. The amazingly short throws coupled with shift gates that are well defined make for a truly enjoyable driving experience, whether you're putzing around town or bagging the MX-5 on a track.
It's when you start turning the steering wheel when the MX-5 really shows its true colours. The combination of the steering and the sport suspension (including Bilstein shocks and a limited slip differential) borders on perfection. Turn-in is immediate, the car remains flat around gentle curves as well as hard cornering. It feels like it is pivoting on a single point, almost becoming rotational in corners. The limits of this car are incredible, and its capabilities leave it feeling unflappable under all but the most insane driving conditions. I was concerned about the added weight of the hardtop, but I don't think anyone would notice a difference unless you were on a track and every gram mattered. In my opinion, it's worth every gram it adds, and I didn't notice anything during the drive.
You'll also enjoy the car's tremendous braking ability thanks to the upgraded Brembo front brakes (another part of the Sport package). The MX-5 is definitely a noisy car. There are good things coming from the engine, but you'll hear plenty of road noise at nearly every speed, and the wind noise definitely picks up at speed. Top up or down, it doesn't matter.
The driver assistance technology is almost non-existent in this trim – all you get is blind-spot monitoring and rear cross traffic alert. And thank goodness for that, because if there is a low point in this car, it is the shoulder-checking, particularly on the driver side. It borders on terrifying, as you simply can't see anything.
The Verdict
Is the additional cost (and weight) of the RF roof worth it? In my opinion, absolutely yes. It looks fantastic, works very well and gives the car a very cohesive feel with the top up or down. In my opinion, it actually completes the MX-5, rather than takes something away.
WAF (Wife Approval Factor) was low. She doesn't drive cars with manual transmissions, and she thought it was too small, too noisy and that I drove it too aggressively. In other words, she doesn't get it.
Simply put, the MX-5 has always been a great sports car and continues to be one of the purest expressions of sporty driving. The RF adds a twist, and a very welcome one at that. This could have been done poorly, but Mazda got it right and the RF package enhances the spirit of the MX-5 in my opinion. Well done!
Disclosure:  Vehicle was provided by Mazda Canada.
If you enjoyed this review, feel free to check out my other vehicle reviews under the car reviews tab at the top of my blog.