A tale of twin brothers. Non-identical twins – almost the same and yet very different.
Review and photos by Tom Sedens
It's been a while since I've done up a comparison test. I took delivery of these two Lexus sedans two weeks in a row, and felt that they are so close to each other, that it is likely both models will be cross-shopped. So I thought I'd do the work for you. I'll refer to the IS 200T as the "200" and the IS 300 AWD as the "300" from hereon in.
Exterior
While the two cars almost come across as twins, the 200 wears the aggressive F Sport grille and aero package which gives it a real nasty I-mean-business front end (I recently described another F Sport grille as one that might eat children on the street) and zoomier bits all around. The 300 has the more sedate standard body, and I think both look fantastic. The 18-inch wheels are different as well, the 200 wearing F Sport rims (with 225/40-sized rubber all the way around) and the 300 sporting its own look (but with staggered rubber – 225/40s in the front, massive 255/35s in the rear). The new integrated exhaust tips are sweet.
I really like the size and proportions of the IS line, and so do others – both cars got plenty of looks on the road. And while the 300 looks less aggressive, that's all relative, and in my opinion, it's plenty aggressive as it is and looks better than the F Sport-equipped 200.
Interior/Tech/Convenience
Once you sit in the IS sedans, you'll find most of the interiors to be a match. The design is slick although it's starting to show its age – the materials and the fit and finish are outstanding. A distinguishing feature is the centre console – it is very wide and sits quite high.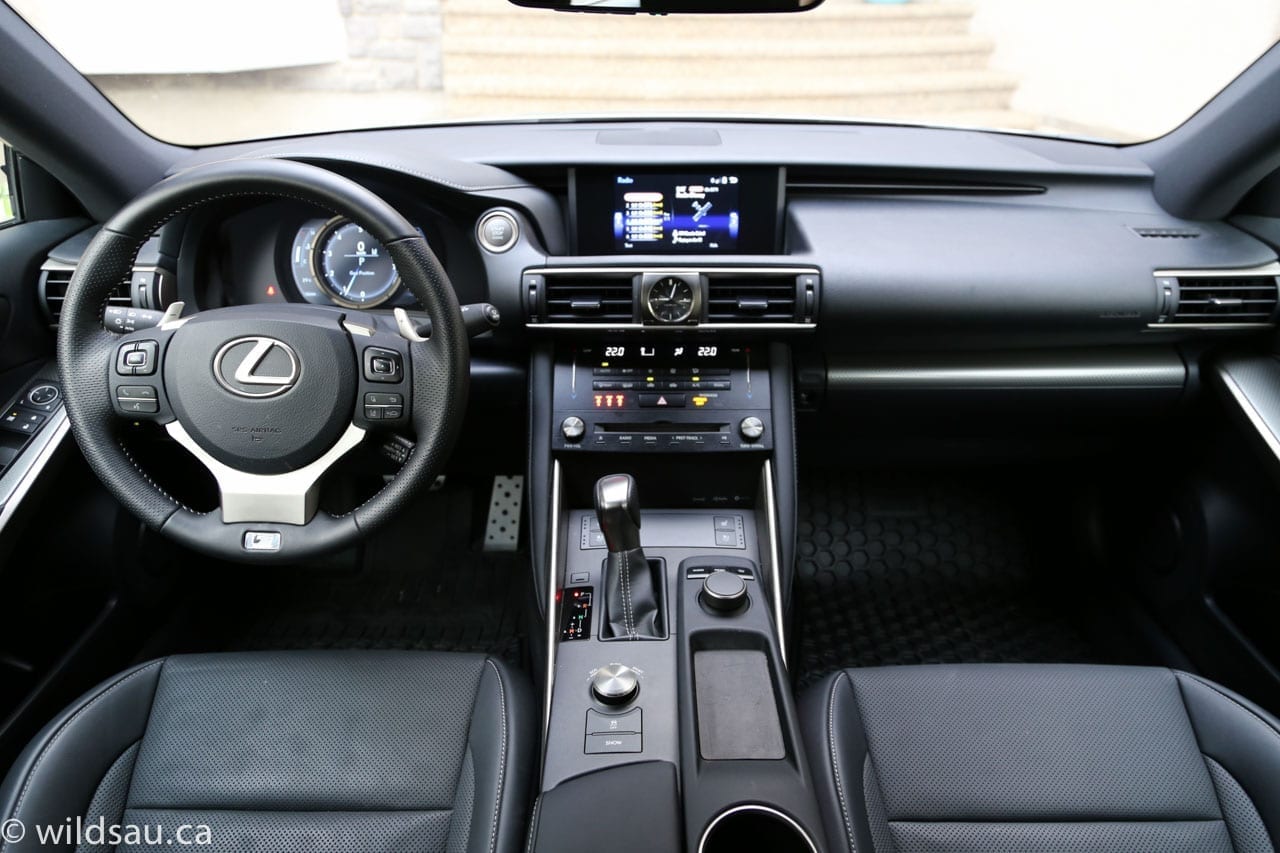 The 200 had a more basic (read: less optioned out) interior. It has the F Sport steering wheel and Lexus' most basic input device (a rotary joystick knob) which is also Lexus' best current input device. More on that in a moment. The 7-inch screen handles audio, phone and some vehicle settings. One big difference is that the F Sport-equipped 200 gets the super-cool digital gauge cluster, which allows you to electrically slide the main one (a round screen) over to expose an additional driver information screen. It's all a lot of fun, and it actually is quite functional. Definitely a "Whoa!" moment to impress your passengers too.
The 300 interior, while nearly identical, had a heated steering wheel and its upgraded 10.3-inch screen adds navigation and is controlled by the dreaded herky-jerky mouse/paddle Remote Touch interface. It's awful. I really liked the pinstriped trim in my 300 – it looks great.
Both cars' seats are heated and cooled and very comfortable. The 200's F Sport seats are incredibly well designed and offer superb bolstering as well. Both vehicles offer a solid suite of driver assistance technology – blind spot monitoring, rear cross traffic alert, a back-up camera, dynamic cruise control, lane departure alert and assist and automatic high beams. The 300 adds parking sensors all around the car.
 
Rear Seats
The IS rear seating is quite comfortable when it comes to the two outboard seats. While not particularly roomy, I found enough head room, leg room and foot space under the front seats to be comfortable for adult passengers. The middle position is narrow and whoever would be sentenced to sit there needs to straddle a massive drive shaft tunnel. No thanks. Even my smallest kid was unhappy to have to sit in the middle.
There is nothing in terms of comfort or convenience going on back there, other than a couple of adjustable air vents. The middle seatback folds down to become an armrest with cupholders that pop out.
Storage
I found a distinct lack of good places to put my stuff around the IS' cabin. There's a little bit of space under the armrest lid, where you'll find auxiliary, 12V and USB ports as well. The IS trunk isn't huge, at 306L, but it will do for most situations. If you need more cargo space, the rear seats split 60/40 and fold down, but not nearly flat.
Under the Hood
The big news here is the new engine in the 200. It's a turbocharged 2L 4-cylinder, putting out 241 HP at 5,800 RPM and 258 lb.ft of torque at only 1,650 RPM. This rear-wheel drive sedan gets a new 8-speed automatic transmission. Lexus rates this set-up at 10.6 L/100 km city and 7.3 L/100 km highway. After a week of normal commuting around town as well as over 600 km on the highway taking kids to summer camp we averaged 8.5 L/100 km in the 200.
The 300 also has a new engine – a 3.5L V6. The power numbers don't seem to be hugely better – 255 HP at 6,400 RPM and 236 lb.ft of torque at 2,000 RPM. The all-wheel drive 300 sticks with the older 6-speed automatic and is rated at 12.6 L/100 km city and 9.2 L/100 km highway. I ended up with an average of 11.9 L/100 km, not driving economically and spending most of my time commuting in the city.
The Drive
The 200, with its F Sport suspension, delivered a firm ride. Overall, it drives well and handles pretty well too. I think Lexus has created a sporty sedan but not a sport sedan, and that's likely what most IS buyers are after. The new 8-speed transmission is very smooth and slick in its operation. But like the rest of the driving experience, it doesn't exactly behave in a sporty fashion.
Both cars have three drive modes – Eco, Normal and Sport. Even in Sport mode, the 200's engine and transmission don't seem to want to play. It is sluggish to shift down (even when you do so manually) and immediately seeks the highest gears possible in an attempt to save on fuel. While the package provides enough power for the most part, I found it disappointing when I called for stronger acceleration. When you step on it, there is a very significant lag off the line – to the point that it induces some panic when you are trying to merge into fast-moving traffic as it really takes some time to get going. The 200 is also very quiet in virtually every situation – that's great for the most part, unless you enjoy hearing your engine occasionally. I have to say, I would appreciate a little more throatiness out of the engine when I step on it.
Now to the 300 – I can honestly say I prefer the driving experience in this car in every way. The V6 is just worth every dime to me. From when you fire it up to when you step on it, it sounds terrific and it has significantly more power than the 200. It's a completely different car because of it. There's a ton of jam off the line, and the 300 feels even faster than it is because of the deliciously linear power delivery. I prefer the older transmission in this car as well – it seems to perform better if you're after the occasionally sporty driving session. The ride is better, yet the non-F Sport handling actually feels just as capable and competent as the 200's, while being smoother and more comfortable.
The Verdict
Both of the IS sedans are nice rides. I like the looks of both, but prefer the 300's slightly less aggressive lines. And in my opinion, the slight savings the 200 provides over the 300 are not worth it. I'd spend the extra for the 300 and enjoy a more complete, well-rounded driving experience. If you want to save some money, don't spring for the F Sport package which is really a lot of aesthetic add-ons that make little or no difference when it comes to performance.
WAF (Wife Approval Factor) was middling. She said they look a little too boy-racer for her, especially the grille. But she said they drove really nicely – she didn't really notice the difference in drivetrains (huge eyeroll from me, thank you very much) – and that they felt very upscale.
Disclosure:  Vehicles were provided by Lexus Canada.
If you enjoyed this review, feel free to check out my other vehicle reviews under the car reviews tab at the top of my blog.
Pricing: 2017 IS 200T
Base price (RWD trim): $40,150
Options: $4,800 F Sport Series 1 package
Freight: $2,045
A/C tax: $100
Price as tested: $47,095
Pricing: 2017 IS 300
Base price (AWD trim): $42,950
Options: $6,700 Luxury package
Freight: $2,045
A/C tax: $100
Price as tested: $51,795