Soul-stirring Modern Performance – the 2023 Chevrolet Corvette
Review by Tom Sedens.
Photos by Brandon Leentvaar. Thanks for the awesome shots!
The 2023 Corvette Stingray boasts an impressive pedigree of 70 years. 70 years during which Chevrolet has constantly refined and modernized this purpose-built sports car, engineering it to take on all challenges that come its way. 
Exterior
To say that this eighth generation was a breathtaking and bold departure is an understatement. There had long been rumours that the Corvette would go mid-engine, departing from its hallowed front-engine, rear wheel drive heritage, but it was tough to imagine how much that would change its look.
The technically sculpted car has potent aerodynamics, slicing the air with precision, and has massive intakes to feed the brakes and the engine cool air. I do love how it looks, but to me, it's far less a thing of beauty and much more an exercise in function over form. 
Wheels are tires are staggered in rim size and width – it gets 245/35-19s up front and steam-roller-sized 305/30-20 in the rear. 
Interior/Tech/Convenience
Opening the heavy doors reveals an interior that seems prepared for flight with driver-centric styling that feels inspired by fighter jets. The materials are pretty nice – the dash and doors are completely wrapped in stitched leather. The finishing is pretty good, although if you compare the stitching lines to something like Lexus or Mercedes, you'll see where Chevy has some opportunities for growth. If there was anything else to pick on, I would say the little knobs to adjust the air vents felt cheap and as if they could easily break off – they felt out of place in an otherwise mostly-lovely cockpit.
The seats are amazing. They're power-adjustable, heated and ventilated and combine a very comfortable chair with significant bolstering. I'm a big fan of the optional orange seatbelts – a perfect splash of colour. I found that sitting in the passenger seat wasn't nearly as fun. I'm not a small guy and I felt crowded by the right side of the console, having no place to put my left arm or elbow. 
Taking the racing-inspired steering wheel in hand, the driver finds everything they need is displayed ahead of them in the customizable 12-inch digital dash. That steering wheel is heated, comfortable and grippy, although the flat-top and -bottom make for a square circle (a squircle?) and it won't suit everyone. 
All other functions are taken care of by the 8-inch touchscreen, angled toward the driver for easy viewing and control. All the climate controls, as well as seat heating and ventilation, are perched atop a raised spine on the right edge of the centre console. I feel that this looks odd and is an ergonomic miss – thankfully the driver likely won't need to adjust the temperature a lot. 
The rest of the console is clean and focused, dedicated to the push/pull gear selector and rotary drive mode knob. 
The 14-speaker BOSE Performance Series audio system is staggering in its power and clarity and made for great listening even with the top down. 
When it comes to safety, there are some driver assistance technology systems to keep everyone safe, namely blind-spot monitoring, rear cross-traffic alert and rear park assist – but not nearly as much as you'd find in most other modern vehicles. I found this quite surprising. 
Storage
There are a couple of little nooks and crannies and a couple of cupholders that will hold stuff. You'll also find a little front trunk that will hold what I estimate to be anything the size of a carry-on suitcase.
What through me off was the trunk. At 357L, it is shockingly useful – you can actually get groceries or even fit some luggage in there, and it will hold two golf bags.  
Under the Hood
This is the most powerful Stingray in history, motivated by a massive 6.2L LT2 V8. The naturally-aspirated engine makes 490 HP and 465 lb.ft of torque – those bump up to 495 and 470 respectively with the optional performance exhaust. Paired with an 8-speed dual-clutch automatic, its efficiency is rated at 15/9.8 L/100 km (city/highway) – my car averaged 15.1 L/100 km and no effort was given to drive efficiently. 
The Drive
The powertrain is enough to push the Stingray to stratospheric performance limits, accompanying the pure driving joy with its addictive sonorous V8 bellow. It has immense and immediate power at all revs, but it's plenty of fun wringing it out too, as peak torque arrives at 5,100 RPM – it makes all of its horsepower at even higher revs, soaring to 6,450 RPM.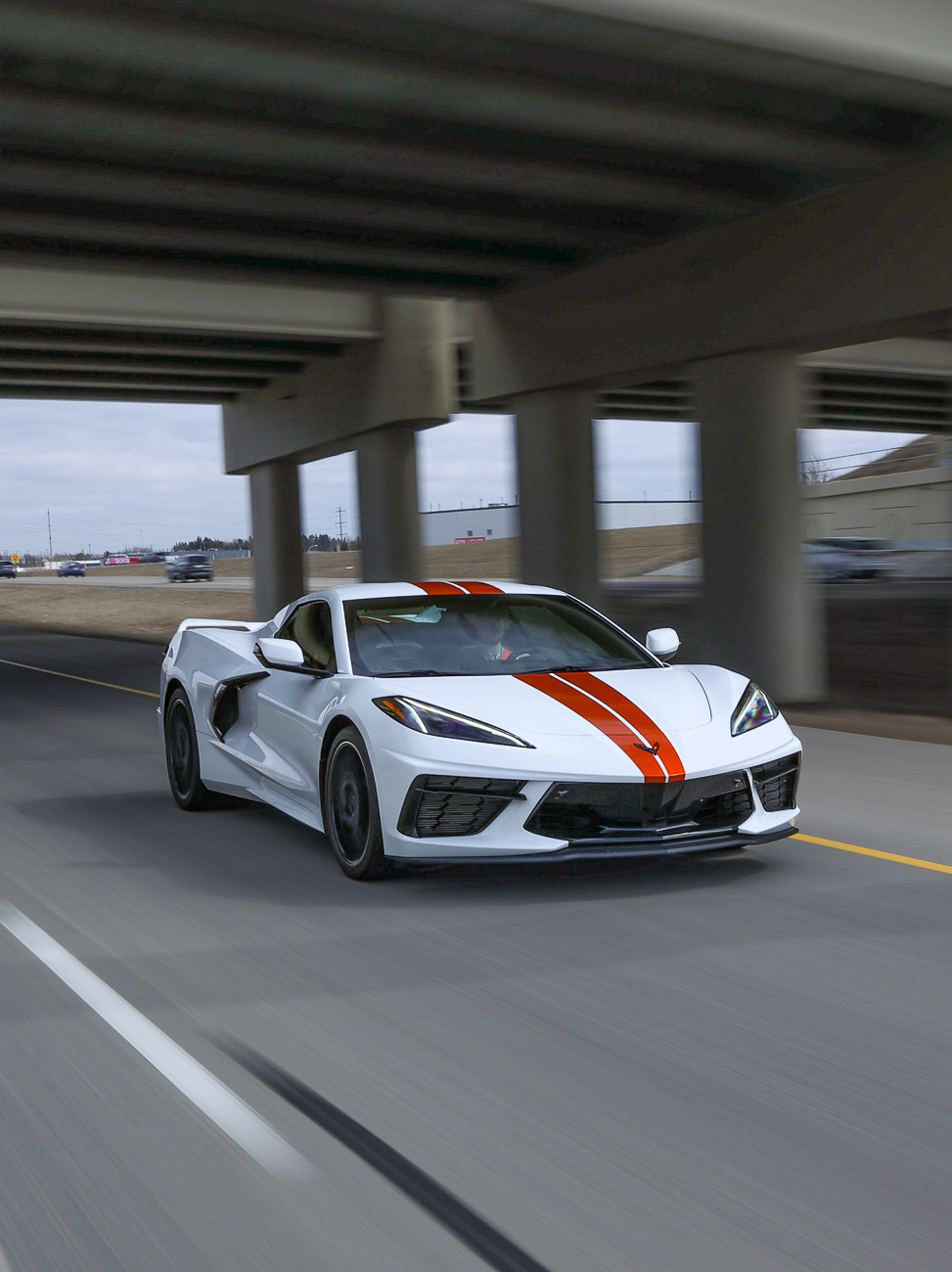 The transmission is fast and relatively intelligent when left to its own devices. You can put it in manual mode and use the paddle shifters, which do a fantastic job at cracking off very quick shifts.
The Stingray isn't super-light – the convertible I drove is 3,467 pounds (1,573 kg), but this is a lot of power for something of this mass. Using the launch control, 0-100 km/h is reached in 2.9 seconds, with the quarter-mile flashing by in only 11.2 seconds. That is really, really fast. 
But this Stingray isn't just about straight-line performance, which it obviously has in spades. The engine sits behind the driver. Combine the resulting perfect weight distribution with the astounding Magnetic Ride Control suspension, a limited-slip differential and those staggered front and rear wheel and tire sizes and you have a car that will happily and comfortably cruise on the highway all day and then head off to the track where it can be raced all day. 
In Touring mode, the suspension is downright buttery for a vehicle with these performance chops. Dialed up to Sport or Track, the suspension firms up considerably. Of course, each driving mode impacts a number of things – steering, suspension, shifting, brake feel and engine sound. There's also a "Z" mode – other manufactures call it individual or custom. You can program each of those sections to your heart's content for the perfect mix and it's quickly accessible with the "Z" button on the steering wheel. 
The driving dynamics are superb, allowing for precise control of every facet of the car's performance. The steering is heavy and incredibly sharp and the traction is unflappable, the rear tires only breaking loose when the driver wants them to – you can count on heroic handling any time you need it. And hauling everything back down is done with incredible ease thanks to the gargantuan Brembo brakes.
Visibility is a mixed bag – it's great looking forward over the low hood, but seeing out of the car from every other angle is a bit of a challenge – not sure how anything could be done about this in a car that is shaped like this, and so it wasn't unexpected.
Details
The Stingray convertible features a retractable roof that looks as great up as it does down. Press a button inside or on the key fob and it will pop up, split into sections and tuck itself away on top of the engine compartment – all within 15 seconds and at up to speeds of 30 km/h, and still leaving you with that aforementioned trunk that will fit two golf bags.
Even the Corvette's bodywork gets protected – an optional Front Lift system pops the front of the car up two inches in less than three seconds, allowing the driver to spare the front end from undignified scratches and bumps on steep driveway entrances. 
Nitpicks
This may be a problem for you, or you may not care. There is no available manual transmission. Many bemoan the loss of the manual, but not enough people were buying them. There's a reason hardly any cars offer them any longer. Anyway, if you're one of the few that still wants one, you won't get it in your new Corvette.
The Verdict
WAF (Wife Approval Factor) was super, super, super low. Too cramped, too loud, suspension too firm, trunk too small for retail therapy. She's not a sports-car kind of girl.
As for me, I love it. I love almost every single thing about it. Nestled in the driver's seat, you have access to performance in the super-car realm, with staggering acceleration, surgical handling, comfort and unbelievably, a car that is actually easy to live with.
First introduced in 1953, the Corvette is one of America's, if not the world's, most iconic sports cars. In its current form, it might present the world's best performance value, combining exotic super-car capabilities and five-star accommodations at attainable pricing. The 2023 Corvette Stingray is a truly world-class machine that delivers exactly the thrills its wild looks promise.
Disclosure:  Vehicle was provided by Sherwood Park Chevrolet.
If you enjoyed this review, feel free to check out my other vehicle reviews under the car reviews tab at the top of my blog.