The 2023 Ascent, Subaru's biggest vehicle, gets a bit of a refresh.
Review and photos by Tom Sedens. There are always more photos at the end of my reviews.
Pricing: 2023 Subaru Ascent
Base price (Premier trim): $53,995
Options: none
Freight: $1,995
A/C tax: $100
Price as tested: $56,090
Exterior
This is a refresh, but the redesigned headlights, tail lights, grille and chrome-rimmed front air intakes all come together to make for some welcome design improvements. The Ascent is a wholly unoffensive design, that also will not catch many people's attention.
It blends in, but it looks good while doing so. I guess that's neither a compliment nor a diss. I don't think the blue colour of my review vehicle does it many favours in terms of standing out in the crowd.
The wheels are 20-inchers and add some nice visual pizzazz.
Interior/Tech/Convenience
The materials are in the Ascent's cabin are nice, with almost any surface you would contact being soft-touch and plenty of stitched panels on the dash and the doors. There is a wood trim that is obviously fake but visually is appealing enough and somewhat convincing – enough that I don't dislike it. I also love the two-tone colour scheme of chocolate brown and black. Fit and finish appeared to be outstanding.
The heated steering wheel sits in front of a pair of traditional gauges, split by a driver information screen.
The leather seats are heated and ventilated – we found them to be highly comfortable and surprisingly well bolstered.
Front and centre on the dash is Subaru's higher-end vertically oriented 11.6-inch touchscreen, which incorporates nearly all of the vehicles functions – settings, phone, navigation and the harman kardon sound system, which is awesome. It works really well, but as I noted in my recent Subaru Legacy review, I feel that maybe the screen does a bit too much, which requires you to dig into the menus on occasion.
A full suite of driver assistance technology is included – there are all the usual kinds of mitigation braking systems, a surround-view camera and plenty of other stuff. It all works very well, but I found one of the features was a bit too sensitive. The driver attention system is hyper-grumpy – I found it beeping at me within a moment of looking anywhere but straight ahead at the road, even if I shoulder checked a bit too long for it.
Second and Third Row Seats
Second row seating comes courtesy of excellent captain's chairs, which are heated and very comfortable. They slide fore and aft and recline and have adjustable armrests, which I really like.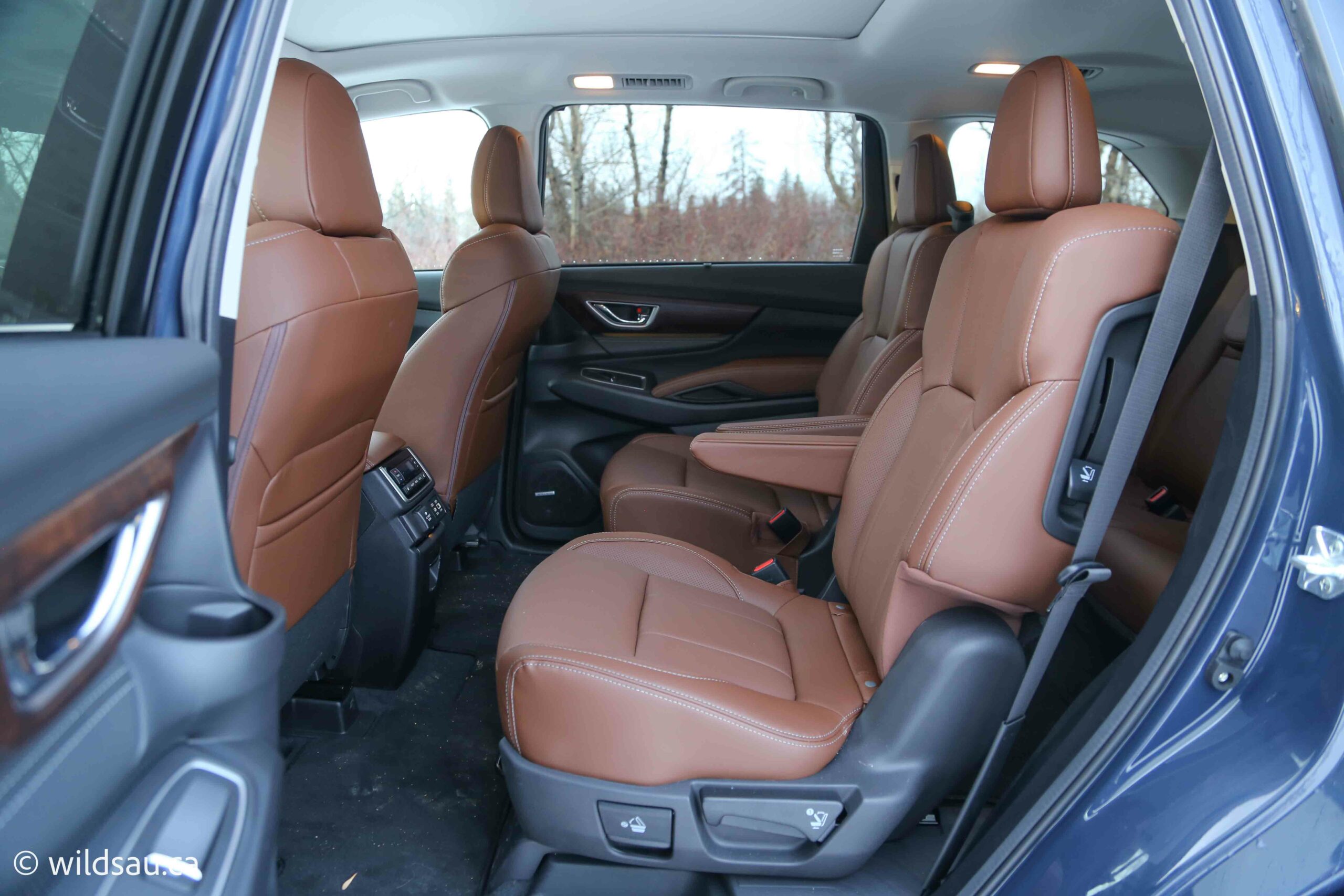 The second row has excellent door-based storage – separate bins and huge cupholders, which can act as secondary bins. There's another fold-out pair of cupholders hidden in the bottom of the back of the centre console. Above that are USB-A, USB-C and a 120V household plug.
Climate comfort comes thanks to a separate control panel at the back of the centre console and ceiling ducted vents.
Getting to the third row can be done by tilting and sliding forward either of the second row seats, but even as an adult, I was comfortably able to get to the back by walking between the second row seats.
The 3-seat third row is typical mid-size SUV stuff, which means not big. I'm 5'10" – my knees touched the second row seats and my head was touching the ceiling, so these seats are best suited to kids. That said, those second row seats can be slid forward a bit and there is plenty of foot room beneath them for third-row passengers. Both sides of the third row seating get storage cubbies and the right side gets two USB charging ports.
If you're transporting little ones, each second row seat and one third row seat has child seat anchors making three in total.
The Ascent gets a huge panoramic sunroof overhead which really brings some nice airiness into the back two rows.
Storage
Under the centre stack is a rubberized storage slot, along with a 12V plug. Below it are USB-A, USB-C and auxiliary ports. The armrest lid pops up to reveal a carpeted bin and an organizer tray. There's also a kind of storage tray sweeping across the dash, with a bigger portion in front of the passenger and a smaller one to the left of the steering column.
Popping the power trunk lid reveals a large trunk – it's even decent (458L) with the third row up and in use. The third row seats fold (and are pulled back up) manually.
There's significant underfloor storage space along with a designated spot to store the removable, retractable tonneau cover – that's a great idea! There are good tie-down anchors and a 12V plug.
Under the Hood
The Ascent gets a turbocharged 4-cylinder boxer engine that puts out 260 HP and 277 lb.ft of torque. The transmission is a CVT and of course all-wheel drive is standard.
Fuel economy is rated at 12.3/9.4 L/100 km (city-highway).
Over the course of 2 weeks with the Ascent, we averaged a sobering 15.3 L/100 km during some bitterly cold winter weather. Yikes.
The Drive
The Ascent definitely has some good get-up-and-go off the line. Once things are moving, it doesn't feel as powerful, which is obviously a function of the vehicle's mass. But it holds its own for sure.
The vehicle is obviously tall and heavy, but the handling is still quite good – although you get essentially zero steering feel or feedback. It is capable and competent, but never feels sporty. Not a big deal in a three-row SUV.  What does matter is the ride which is beautifully controlled and supple.
It almost goes without saying in Subarus, but the all-wheel drive system is incredibly capable.
You can pick from Subaru's X-Mode driving modes – Normal, Snow/Dirt and Deep Snow/Mud – but unfortunately you have to dig through the touchscreen to get to them.
The Ascent is quiet on the road, but we found the CVT makes quite a bit of whining noise when it is cold. Braking is excellent and visibility out of the vehicle is quite good, with the only impedance coming from the the third-row headrests when they are up and in use.
Towing capacity is rated at 5,000 pounds (2,270 kg).
Nitpicks
No wireless charging at this price point and in the top of the line trim is weird.
The climate control fan can get incredibly loud, perhaps one of the loudest I've ever heard. When the system in is Auto mode and the fan ramps up to try to heat the interior on a cold morning, for example, it becomes unbelievably noisy. To give you a reference point, we would need to turn up the stereo or speak up significantly to hear each other over the fan. Now granted, that's at full fan speed, but still…
One last niggling thing – I know Subaru is all about safety and that's a good thing. But the seatbelt reminder/alarm is just about the most annoying thing we have experienced. I realize this is not suggested or safe behaviour, but if one of the passengers unbuckled with a block to go before we got somewhere, the seatbelt alarm would instantly start blaring and it never stops. I suppose that's what Subaru wants – to bother you so much that you put your seatbelt back on. It sounds trivial, I know, but once you experience this, you will understand just how aggravating it is.
The Verdict
WAF (Wife Approval Factor) was surprisingly quite high. She normally does not like driving bigger vehicles, but said this was easy to drive and "easy to live with".
I agree with her – I found the Ascent easy to live with. It provides plenty of utility and thoughtful features, good performance and plenty of safety to envelop driver and passengers alike – as a matter of fact, it gets top safety ratings. The price also feels competitive at this top-trim level.
Disclosure:  Vehicle was provided by Subaru Canada.
If you enjoyed this review, feel free to check out my other vehicle reviews under the car reviews tab at the top of my blog.