Land Rover Defender – An icon reimagined for the next generation
Review and photos by Tom Sedens. There are always more photos at the end of my reviews.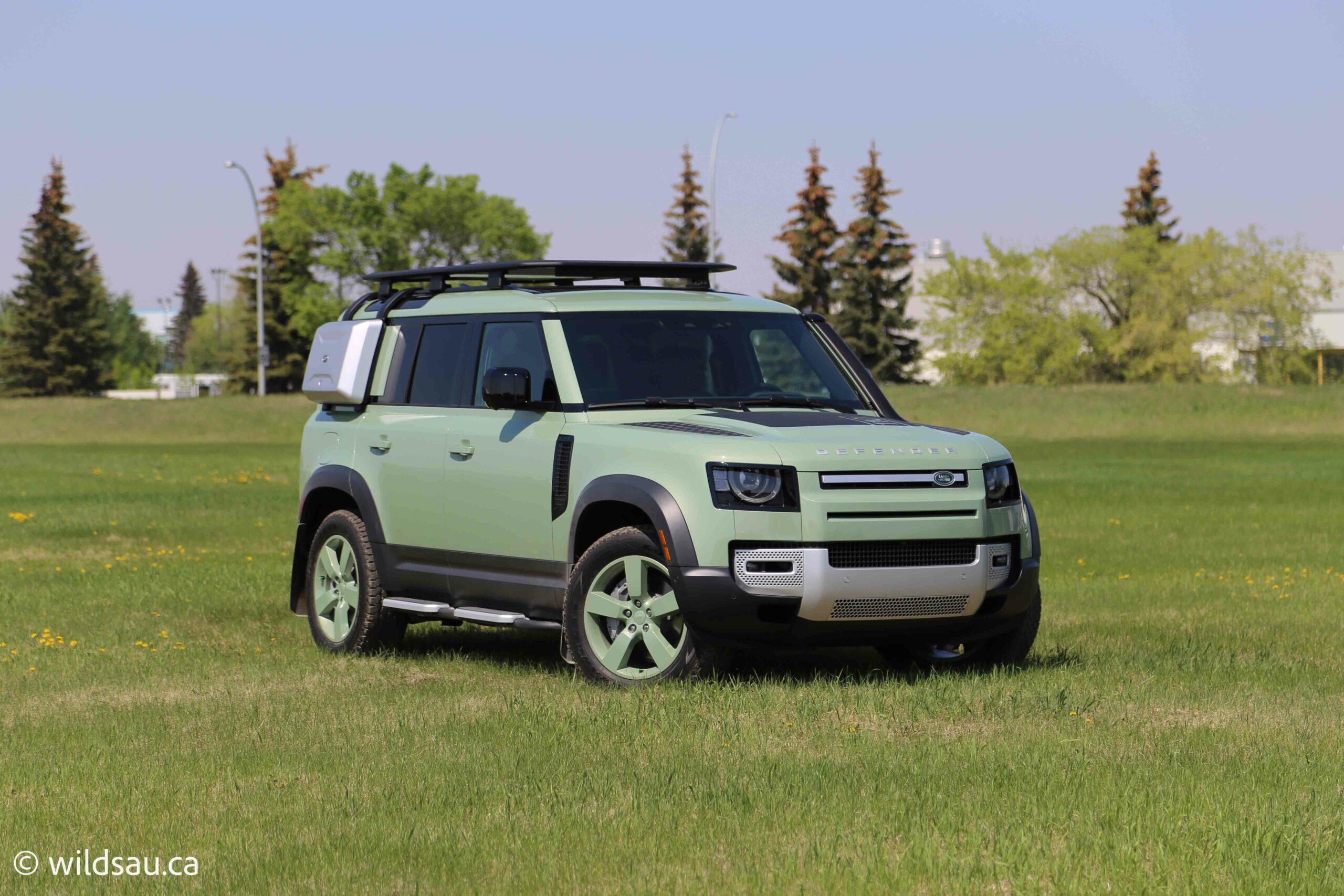 Pricing: 2023 Land Rover Defender 110
Base price (75 Limited Edition trim): $130,416
Price as tested: $130,416 (not including fees, freight or taxes)
It feels like Land Rover has been with us forever. In 1948, the Series I was introduced at the Amsterdam Motor Show. And now, Land Rover is celebrating 75 years of heritage with the new Defender 75th Limited Edition.
Exterior
With an instantly recognizable silhouette, modern compelling proportions and sophisticated surface treatments, everything about Defender is designed with integrity and purpose. 
The Defender's raised hood, sculpted grille and precise details carry over, but this special limited edition sees the introduction of the Grasmere Green colour – even the wheels are painted to complement the body – along with a 75 Years graphic and exclusive exterior design detailing.
You'll find LED lighting all around, with Matrix LED headlights and some of the coolest square LED tail lights you will ever see.
The driver's side A-pillar is home to a massive air intake/snorkel that goes all the way from the hood to the roof.
Interior/Tech/Convenience
Getting up into the Defender is easy thanks to the thoughtfully placed steps on the side rails.
Defender's durability and function continue on the inside – its versatile interior has received similar treatment, with the Cross Car Beam finished in brushed Grasmere Green Powder Coat with laser-etched 75 detailing on Cross Car Beam end caps. The "hockey stick" on the centre console featuring Robustec material – the most robust fabric available on Defender. Frankly, all the materials used in the Defender are top-notch. 
The heated and ventilated front seats, very comfortable and nicely bolstered, are upholstered in beautiful perforated leather and have three memory settings for both the driver and the passenger seat.
These interior finishes ensure the cabin is as hard-wearing and durable as the exterior. But it's not all business inside. The Limited Edition is based on the high-specification HSE trim, with a comprehensive list of standard equipment. You'll find everything you need to enjoy your trip including a heated steering wheel in front of the highly-customizable digital dash, an intuitive 11.4-inch touchscreen infotainment system, heads-up display, wireless device charging and the staggering 700 watt Meridian Surround Sound System whose 14 speakers and dual channel subwoofer deliver crystal-clear highs and rich, deep bass. I do feel a few hard buttons would be helpful for main functions instead of burying everything in the touchscreen, but I was grateful for the power/volume knob.

A full suite of driver assistance technology is standard, including the 3D Surround Camera system.

Rear Seats
Here you'll find three seats, three seatbelts and three headrests. We found the rear seats to be relatively comfortable with a good amount of room. Although there is a small bump on the floor, the middle seat is actually quite wide and would be workable, space-wise, for a third adult passenger if necessary. The rear seating position is high, which I really liked the feel of.
The two outboard seats are heated. There is a dual-zone rear climate control panel for the rear passengers. They also get two USB plugs and adjustable air vents. The middle seatback folds down to become an armrest with two cupholders.
Storage
Almost the entire width of the dash is a rubberized storage tray. In front of the passenger is a USB-C plug. The shifter and climate control system kind of jut out of the centre stack – below it you'll find 12V, USB-A and USB-C ports. At the front of the console is a kind of two-level rubberized storage area. It isn't the greatest ergonomically, as you have to reach into it or access it from the sides, but hey, at least it's something. The top of the console is also a bit weird – it's a nice useful rubberized tray but it covers the cupholders (so you have to decide which way you want to use it). And finally, there's a two-level cooling function in the small bin under the armrest lid.
The tail gate, which is not powered and swings to the side instead of up, reveals a decent-sized (786L) trunk with a very high load floor. There are buttons to lower the vehicle (thanks to its air suspension) from the trunk, making loading it easier. You'll also find mesh compartments, bag hooks, tie down hooks, a 12V power port and a 110V household plug. The tailgate itself has a small storage bin as well.
To create more cargo space, the rear seats are foldable in a 40-20-40 split but you'll do so in a very old-school way – the seat cushions have to be tumbled forward first, then the seatbacks fold down. It does however result in a nice flat trunk floor then, and the backs of the rear seats are clad in a nice hard plastic to protect them from whatever you might be loading up back there. With the seats down, the trunk increases to 1875L.
This trim has an accessory storage bin on the outside of the vehicle, akin to having a small lockable suitcase hanging there. I don't personally like the look of this (it seems a poseur-ish to me – nobody actually needs this unless the Defender is heading out on expedition), and it's not that useful to me. There's a massive roof rack for mounting all sorts of additional accessories to.
Under the Hood
The 75th Limited Edition is powered by Land Rover's P400 powertrain, a 3L inline-6 with mild hybrid technology, that puts out 395 HP and a stump-pulling 406 lb.ft of torque at 2000 RPM.
Fuel economy is rated at 12.9/10.4 L/100 km (city/highway). Let's just say I didn't see anything close to those numbers – I found this thing pretty thirsty.
The Drive
Off the line and once you're on the move, the Defender surprised me with its easily accessible power. It make the 0-100 km/h run in 6.1 seconds, a very respectable time considering the size of the vehicle. It performs admirably, accelerating with ease in any situation, and can tow up to 3500 kg.
The smooth-shifting transmission has a Sport mode, and gears can also be selected manually using the shifter.
The suspension can be raised and lowered from the center console. The Defender's ride is fantastic, soaking all kinds of hits and bumps. Handling is so-so – the mass and height of the vehicle become quite evident in corners and there's plenty of body lean. Braking is powerful and nicely balanced.
But what is all the luxury and power in the world if it can't take you to new places? The Defender continues its legacy of being the world's go-anywhere 4×4 with its unrivalled all-terrain capability.
With a lightweight monocoque architecture chassis, configurable Terrain Response modes, almost unbelievable 37.5 degree approach and 40 degree departure angles (with the suspension set to off-road mode) and a ludicrous water wading depth of 900 mm, this is the toughest and most capable Defender yet.
I was a bit surprised (although I shouldn't have been when you look at the Defender's shape) with how much wind noise there was at highway speeds. It was very noticeable.
Details
An optional panoramic sunroof would help lighten things up in the back seats. In my review vehicle, there was a folding fabric roof, which I would not have chosen. It simply scrolls back and out of the way, completely opening the roof to the outdoors. I guess it would be great if you were in Africa on safari.
Of course you have the iconic high-mounted safari-style windows as well, however they are located behind the second row so they don't do much in terms of functionality nor bringing much more light into the rear seating area – to me, it felt like they were nothing more than a nod to tradition.
The Verdict
WAF (Wife Approval Factor) was low. She's not a big fan of the rugged SUV look, although she said it drives nicely and felt expensive.
A masterful implementation of durability and function, and according to Land Rover, tested to the extreme. It doesn't just look tough – it is tough, capable of tackling the most challenging conditions with absolute confidence. As unstoppable as it may be, I'm not sure many of these new Defenders will ever be tested off the pavement in these parts, but hey, at least you know your ride can do it all. And it does so without compromising comfort, luxury and technology.
Disclosure:  Vehicle was provided by Land Rover Edmonton
If you enjoyed this review, feel free to check out my other vehicle reviews under the car reviews tab at the top of my blog.