More space inside an updated and restyled package – the popular Kona is all new for 2024.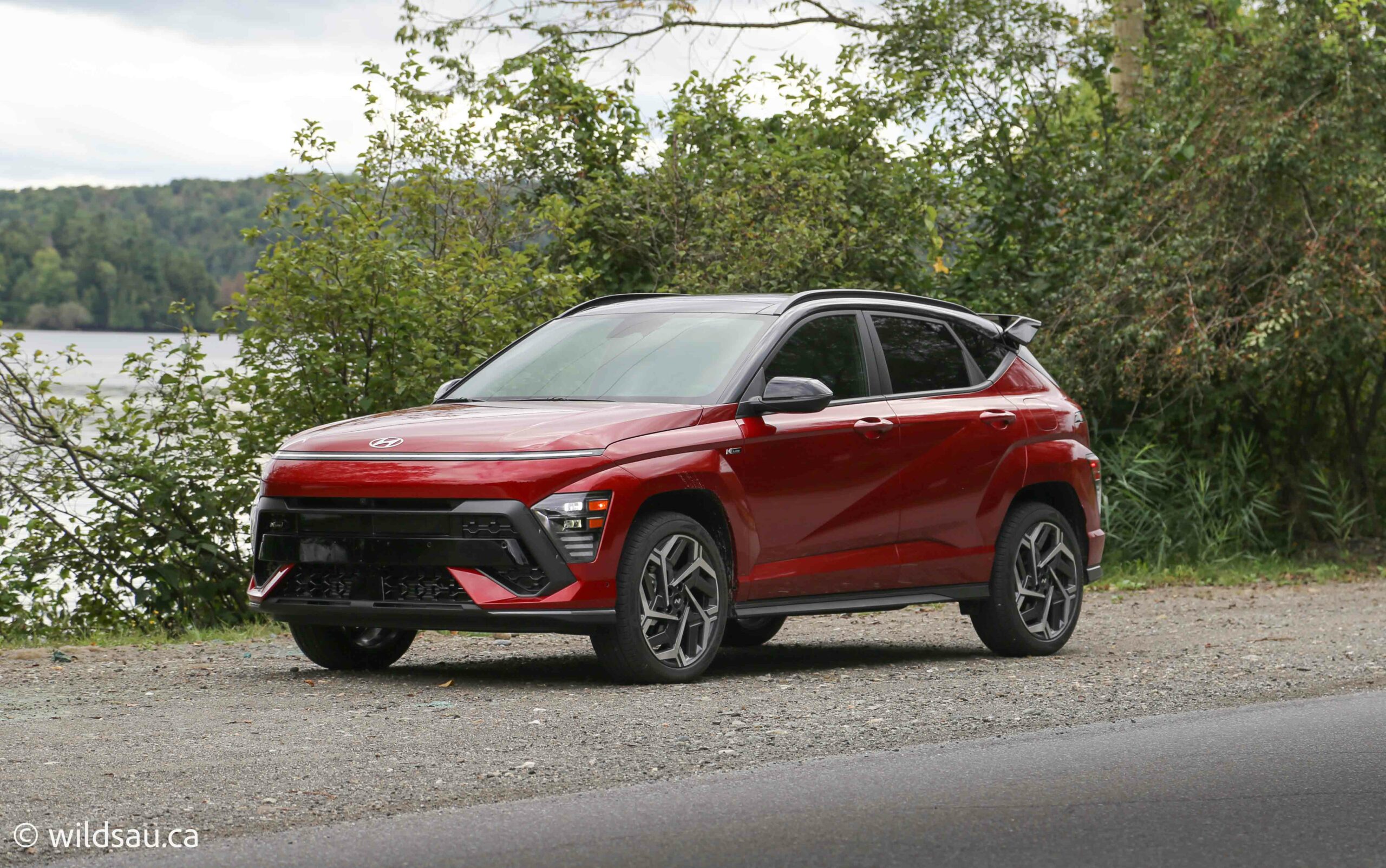 When it launched in 2018, Hyundai's subcompact Kona quickly became a big hit. It checked off a lot of boxes for buyers and was highly competitive in the price category.
So when it came to the 2024 Kona, it was important that Hyundai took a very good entry in the market and made it better. It is, after all, one of their top sellers, making up roughly 25% of their sales volume. To say this is an important vehicle for Hyundai is an understatement.
We were in the stunning Eastern Townships in Quebec, just north of the border with Vermont, where we were encouraged to discover all the new Kona had to offer. On a side note, the Ripplecove Hotel & Spa is a gorgeous place – the setting is as serene and peaceful as it gets, and the hospitality, food and wine offerings and surroundings are spectacular.
First, let's talk about the trim levels and what differentiates them. There are four of them, 5 if you include the one available option package. The value-driven Essential starts at $25,999. Bump up to the $29,499 Preferred trim for a very well-equipped Kona. It gets a heated steering wheel, bigger 18″ rims, adaptive cruise control and more. You can add the Trend Package to this trim for even more equipment (sunroof, wireless charging, leatherette seats, etc.), making it $32,499.
Stepping up to the N-Line, at $35,499, takes things in a decidedly sportier direction. It gets a different exterior, 19″ rims, leather and suede sport seats and more. The trims top out with the N-Line Ultimate that rings in at a lofty $38,499 which includes everything – 360-degree cameras, smart parking (it parks the car or can pull out of a parking spot for you, all without you having to be behind the wheel), ventilated front seats and a premium Bose stereo system.
For your reference, all exterior pictures of the red vehicle and all interior shots are of the N-Line Ultimate trim.
The Kona's updated styling is instantly noticeable. The strong character lines swooping across and up the sides are things we have seen on Elantra and Tucson already. It's a futuristic and highly expressive look. The bulges at the front and rear corners took me a minute to get used to – but they grow on you, much like they look like they grew out of the Kona. LED lighting is standard all the way around the vehicle including headlights, tail lights and the cool full-width "horizon" strip across the front edge of the hood and across the rear.
The lower trim levels (I'll get into those shortly) have very distinctive body cladding whereas the higher N-Line trims paint that cladding to match the vehicle's body. N-Line Konas have numerous other distinguishing exterior features including unique bumpers, special rims, a pretty aggressive rear upper spoiler and twin-tip exhaust. If you choose an N-Line trim, the visual differences will be much more noticeable and aggressive than they were for the last generation.
Size-wise, the new Kona is bigger than the outgoing one – in every dimension. Length, width, height and wheelbase are all notably increased. Hyundai has added five new paint colours.
Overall, the Kona has more presence and stance on the road, and it's a nice maturing of the original styling.
Inside, the Kona's styling is modern, high-tech and works really well in terms of ergonomics. The materials are on par for this category – plenty of hard plastics, but they are nicely textured and look pretty good.
Every Kona gets the huge 12.3-inch touchscreen as standard equipment. I found the screen to be sharp and highly responsive. The user interface is excellent and Apple CarPlay/Android Auto are wireless (with the exception of the top trim which has built-in navigation – so you'll need to plug your phone in to make the connectivity interfaces work). Hyundai adds some hard buttons below it, as well as an automatic climate control system.
All trims get a digital gauge cluster as well with the N-Lines getting a massive 12.3″ digital dash that is crisp and clear.
Storage around the cabin is great. There are a number of cubbies in front of the passenger and in the centre console. I really liked the multi-use console which, thanks to the innovative column-mounted gear selector, allows you to use it as a big open bin, or to push a couple of buttons to magically swing out cupholders. If I had a nitpick here, it's that all the surfaces in these storage areas are hard plastic, which means anything you put in there will be sliding and rattling around as you're driving.
Both of the lower trims are front-wheel drive but all-wheel drive is available as an option. N-Line Konas are all-wheel drive.
The Essential and Preferred trims are powered by a naturally aspirated 2L 4-cylinder that is paired with a CVT transmission. It puts out 147HP and 132 lb.ft of torque. Fuel economy is rated at 8.1/6.8 L/100 km (city/highway) for front-wheel drive and 8.8/8.1 for all-wheel drives.
The Kona is one of the only players in this category to offer an up-level engine choice. In the N-Line trims, the Kona's motivation comes from a turbocharged 1.6L 4-cylinder that puts out a substantial 190HP and 195 lb.ft of torque. That's more than any of the competition. Fuel economy for the turbo is rated at 9.7/8.4 L/100 km (city/highway).
Behind the wheel, the Kona feels more substantial than before. There's some solid pull off the line, and more than enough power for passing at highway speeds. The transmission is smooth and was mostly confident in its gear selection. You can manually shift gears using paddle shifters. The Kona is nicely planted and the ride is relatively smooth and reasonably quiet – some of the bigger road imperfections make their way through the suspension, but that's typical for this vehicle class. Handling is great and it happily tackled freeway cloverleaf merges and urban corners.
Drivers can choose between three drives modes – Normal, Sport and Snow.
Inside space and cargo room was a bit limited in the first Kona – Hyundai is pretty excited about what the new Kona's stretched dimensions have allowed them to do about that.
Rear passengers get an additional 77mm of legroom, which makes for a significant increase in comfort back there. They also get a couple of USB charging ports and a fold-down armrest with cupholders. I found the rear seats to be a bit flat and lacking bolstering support.
Cargo space is increased by a massive 33% – the trunk has a 723L capacity, which grows to ___L with the rear seats folded down. It is significantly bigger and more useful than the previous Kona trunk. There's a hard tonneau cover/parcel shelf that swings up with the tailgate. I liked that you can quickly remove it and store it behind the rear seats and out of the way, making for a much larger trunk vertically. There is also a big amount of underfloor storage in the trunk.
I found it an interesting omission that a power liftgate is not available, especially considering the US version of the Kona has one. Hyundai says they will keep an eye on consumer demand and they can add this feature (which will increase the cost obviously) in the future.
Hyundai has taken things up a few notches with some of the other built-in tech as well. MyHyundai with BlueLink is standard on all Konas and allows you to connect with your car through your smartphone. It lets you do things like lock and unlock the car, start or turn off the car, check your fuel level or even just locate the vehicle – all remotely from anywhere you might be. Digital key is another great feature, which allows you to use a device to unlock the car just by placing it next to the car – these digital keys can also be shared with other parties which makes things easy if you, for example, want someone else to drive your vehicle temporarily, etc. Digital key is available on Preferred trim with the Trend package and up.
If you want to check out the new Kona, they should be in showrooms now. The new Kona Electric is coming in early 2024.
Who are the competitors? Hyundai says it's primarily the Honda HR-V and Toyota Corolla Cross. But you can add the Subaru Crosstrek, Kia Seltos and even the front wheel drive only Nissan Kicks to the list as well.
Disclosure: Hyundai Canada paid for my airfare, accommodations, meals and fuel and provided the vehicles for this test drive event.