What's the best way to review a perennial best-seller? Do you try to form an opinion or just nod your head along with the masses?
For me, this was an easy one. Even though every second person in North America seems to own a Camry, I've only sat in one, and have never driven one myself. So this is a great baseline for me to see what all the fuss is about. And by fuss, I mean quiet, toned-down enthusiasm by normal people and massive sales. You'll never hear a car enthusiast waxing poetic over a Camry, but any manufacturer would kill to have the sales of this model.
Camrys start at CDN $23,700 – this mid-line SE trim with the Premium option package rings in at CDN $33,785, everything in. You can step up to a loaded XLE trim as well.
Exterior/Under the Hood
My Camry came in a dark Barcelona Red Metallic, which is a nice change from the grey or beige you'll find most Camrys (and their drivers – I keed, I keed) in. The styling, as is the case for the last few generations of Camry, continues to evolve. Toyota wouldn't be silly enough to revolutionize the look of something that sells this well. And so it continues to take small steps in slightly new directions, even when it is advertised as all-new. The current shape certainly took a scalpel to some elements – most noticeably the front and rear fascias. There are updated headlight clusters, a more integrated looking front end, and the tail lights flow nicely into the upper line of the trunk lid's vertical part.
The SE trim is a sportier look for Camry, and they try to add a few little cues here and there. There's a nice trunk spoiler, body skirting and the front air dam looks serious with big lower almost-aggressive air intakes. The 18″ SE wheels have a nice blade design and are shod in 225/45-sized rubber. It would be nice to see the car lowered just a touch, as there's too much air above those low profile tires for my taste.
Although the rear quarter of the car is big and there's a lot of metal to look at, it doesn't seem too heavy and the proportions are decent.
Otherwise, the lines are clean and…. well, Camry. They won't offend anyone, but they're not going to get many second looks either. This is just my opinion, but I almost think there are a few cues to the new exterior styling that remind me of the Camry from a couple of generations back. It's a nice looking car, to be sure, but there's nothing exciting about it. Watch for this theme throughout my review.
Under the hood, you'll find Toyota's proven V-6 – a 3.5-Liter unit, putting out a very respectable 268 HP at 6200 RPM and 248 lb.ft of torque at 4800 RPM. It drives the front wheels through a 6-speed automatic transmission that offers a Sport mode and manual shifting through a slap-stick function or with steering-wheel mounted paddles.
The fuel economy is rated at 9.7 L/100 km (24 mpg) in the city, 6.4 L/100 kim (36 mpg) on the highway and 8.2 L/100 km (28.7 mpg) for the combined cycle. I averaged 11 L/100 km (21.4 mpg) during my time with it, which was made up of almost all city driving – some economical, some aggressive.
I was surprised to see the Camry only weighs 3,358 pounds. The fuel tank has a 64 Liter capacity.
Interior
I found the front to be relatively spacious. Headroom isn't amazing, but it is sufficient, and there's room to stretch out a bit.
There's an interesting blend of shapes and lines inside, including some new takes on sculpting the dash. The materials are nice to look at for the most part, but I feel that they are behind the curve in terms of quality. Some surfaces are borderline soft-touch, and there's some attractive stitching across the dash. There's not a lot of soft-touch plastics, and there are some simply offensive touches that really take away from the interior. I really take issue with the two trim pieces that flank the center stack's bottom, where it meets the center console. They are hard plastic, and they have fake stitch-marks cast into them. Fake stitch marks cast into hard plastic pieces are just insulting and it looks crappy. I'd rather not have the stitch marks. I thought that was a weird corner to cut.
The manually adjustable steering wheel is nice, and has a bigger diameter than I expected. It's comfortable to hold and use, and has buttons for media, phone and handsfree operations. Of note, the control pads look like something the army would use to control a Predator drone – they mean business! Behind it sits a nice hooded instrument bin with a large central speedometer. On either side is a 1/3-of-a-circle gauge – a tach on the left (and a small digital screen showing engine temperature, gear selection and outside temperature) and a fuel gauge and analog average fuel economy gauge. The fuel economy gauge isn't linear, so you'd have to look closely to see where it's sitting, and it's not useful. There's also a small digital screen on this side, allowing you to switch between the odometer, 2 trip meters and average fuel economy.
The seats are quite comfortable, and trimmed with leather – the centers are upholstered in a suede material – there are some interesting styling touches with different color swatches, stitching, etc. Both front seats are power adjustable and heated, and I was surprised at how well bolstered they are. Toyota did a good job with that and I'm impressed.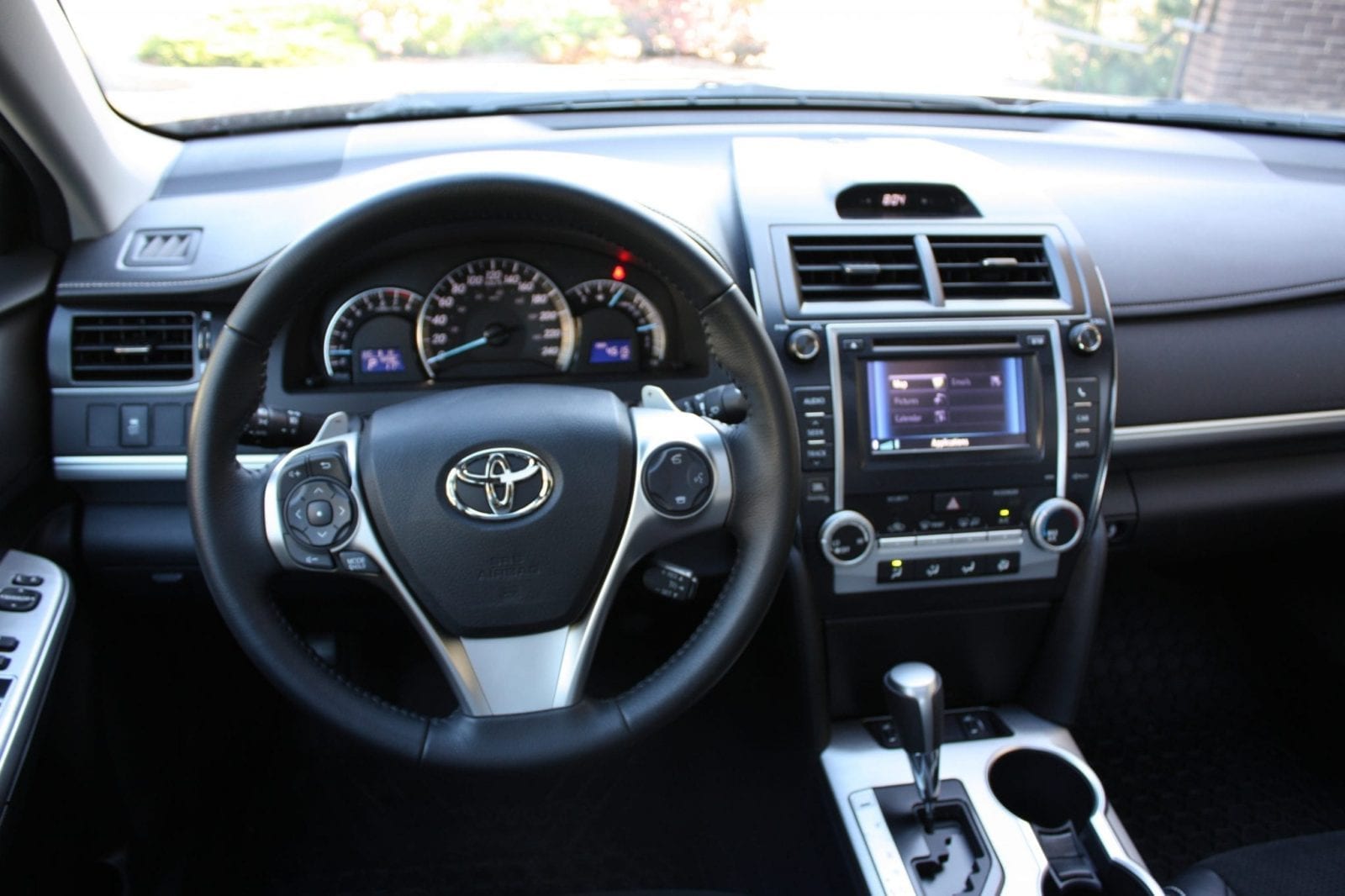 The center stack starts with a standard Toyota "Hi, I'm out of a car from 20 years ago" digital clock – it even gets its own hooded bin. Below that sits a 6.1″ touchscreen and below that, a manual climate control system.
The center console has the gear selector on the left, and two cupholders on the right. The armrest is comfortable and nicely upholstered.
It's not a very exciting interior to be in, but everything functions well and it is well laid out. Fit and finish seems to be good.
Tech/Convenience
The basics are all powered, of course – door locks, mirrors and windows and the headlights are automatic.
There's an ECO indicator light, which glows green in the instrument panel when you are driving economically – it's a gentle reminder to coddle Mother Earth with your acceleration and braking.
Overhead, you'll find a typical power tilt and slide sunroof with a manually sliding sun shade and there's a 3-position HomeLink garage door opener ahead of it.
The touchscreen controls the media system, and is augmented with hard buttons allowing you to select which function you want to head to. The sound system is JBL-branded and it sounds very good. You have a full complement of sources: AM, FM, satellite, CD, auxiliary, USB and streaming Bluetooth. The system also has apps, and it can feed off of your smartphone, and even read your emails. You can also get information about your fuel usage habits here.
There is a backup camera, and although there are no audible distance sensor warnings, there are nice distance markings, allowing you to see when you're getting close to something.
Rear Seats
The Camry has three seats in the back – with three seatbelts and three headrests. The two main seats are very comfortable and trimmed the same way the fronts are. The center seat is narrow and raised, making it significantly less comfortable, but there is only a small raised part of the floor, so if you are stuck in the middle, it's not the worst thing in the world as your legs would be comfortable enough.
First of all, rear seat leg and foot room is absolutely amazing. It is very roomy, and allows for great comfort. Headroom is acceptable – the roof is scalloped up over the rear seats so the sunroof doesn't intrude too badly. Being a rear seat passenger in this car on a road trip wouldn't be a bad thing at all.
You get nice door bins with bottle holders, a dome reading light and two seatback map pockets. There is a small storage cubby in the back of the center console, but nothing else. No 12V plug, no air vents. It's a bit spartan.
The middle seatback folds down to become an armrest with two cupholders in it.There are 2 LATCH anchors for kids seats. We got all three kids back there, and they were relatively comfortable. Legroom was great, but width-wise, it was just OK.
Storage
At the bottom of the center stack, there's a flip-up lid – behind it is a nice, deep rubberized bin with USB, auxiliary and 12V plugs. On the center console, behind the shift lever, there's a flip-up lid covering a small storage bin that has another 12V plug in it – I don't like that you are unable to close the lid if you're using that plug. The armrest lid covers a large, open bin with a good amount of usable space, and there's a decent sized glove compartment too. Door bins are well thought-out – easy to access, long enough to use and with an integrated bottle holder.
On the underside of the dash to the left of the steering wheel, you'll find a nice pop-out carpeted bin.
The trunk is large, deep and easily accessed. The rear seats fold down in a 60/40 split to add more cargo space – they are released with pull-handles in the trunk. Releasing them does not fold them down, however, and that requires the extra step of doing it from inside the car. There is also a pass-through for skis, etc.
The Drive
I found the Camry quite satisfying to drive. The engine provides plenty of grunt around town – there's no lag when you want to get going from a stop, and it pulls easily into traffic. It's not a slow car, and there's enough power to get up to any speed. It's not a super-fast car, but it feels quick enough for any kind of normal driving.
The transmission is very smooth, and it's not particularly fast. It suits this car, and I found that manually shifting this vehicle seemed a bit …. useless. The transmission is competent enough for everyday driving. It takes a couple of seconds to downshift if you step on it on the freeway or the highway, but once it does, it has plenty of passing power, and doing that manually doesn't really provide any advantages. Sport mode holds the shifts longer, and makes things seem slightly more urgent, but again, it felt out of character for this car.
The ride was actually tauter than I had expected. It remains comfortable and soft, but I was surprised at how much feedback I got in terms of what I was driving on. I think this is a result of the low-profile 18″ rubber. The car is supple enough over bumps though, and it easily soaks up big hits and dips. Handling is definitely "comfortable" and there's no way this car heads into sports sedan territory. There's plenty of body roll around corners, but with that said, the car grips the pavement very well and is highly predictable around curves. It doesn't encourage you to have fun, but it will put up with your antics if you do. You just get the impression that it's silently shaking its head at your fun and games.
The car is very quiet. Road noise is well damped (with a few drumming/thumping issues over road irregularities – I blame the low-profile tires again). Engine and wind noise levels are very low – the engine only lets you know it's there when you step on it and there was no noticeable wind noise until I was traveling at highway speeds.
I really liked the visibility out of the Camry – it's great from every angle.
Although there's nothing that really stands out in the way the Camry drives, it did everything well and competently. Whoops, there's that theme again.
Nitpicks
At well over $30,000, I thought I'd be seeing an automatic climate control system, but you have to step up to the XLE trim for that. It's not even an option here.
There is no pull handle inside the trunk lid, which means you've got to put your hand on the trunk lid itself to close it – if it's dirty, you'll be getting yourself dirty, and you'll see your handprints on it. A silly and unnecessary omission.  I'd also really appreciate another 12V plug in the trunk.
The Verdict
I can truthfully say that nothing surprised me about the Camry. Well, except at the great seat bolstering.
It really does everything well. It doesn't do a spectacular job at anything, but that's how it's got to where it is today. Toyota has consistently built a car that will comfortably and competently transport people from point A to point B. It will do so reliably, with reasonable fuel economy (of course, that can be boosted greatly by buying the Hybrid), and with enough space for the passengers to be happy.
You'll never get excited about getting into your Camry, but there are plenty of people that will gladly trade the excitement factor for basic reliable transportation, and you're guaranteed that here.
A side note – I've spoken to someone who reviewed the 4-cylinder Camry and said it's just fine in almost any situation for everyday driving, while providing amazing fuel economy.
WAF (Wife Acceptance Factor) was actually quite high for this car. She thought it looks "nice", she felt the interior was very comfortable, and she loved how roomy the back seats were. For the kids, people. Sheesh. She also appreciated the lit vanity mirrors, because without them, she's less of a woman.
I give the Toyota Camry a 7.5 out of 10. I'm surprised at how high I scored this car, but in looking at it from a consumer's perspective, there's nothing this car doesn't do well. It has earned its reputation as a safe, dependable (if a bit boring) choice. It's built well, it's designed well, it looks fine, it drives well, and it transports people and things well. I had very little to nitpick and after spending some time with one, I understand why there are so many Camrys driving around. The competition is fierce, though, and it's an interesting segment.
It might not be for everyone, but it's a nice car that will suit most people. It makes sense.
If you're alright with the "compromise" of having a car that does everything well instead of being great at a couple of things, and you're aware of this when you're shopping, you'll likely never regret buying a Camry. And you'll likely never have a problem reselling it to a like-minded person. There are lots of them out there.
Disclosure:  Vehicle was provided by Toyota.
If you enjoyed this review, feel free to check out my other vehicle reviews under the car reviews tab at the top of my blog.