The Lexus CT-200h is Lexus' smallest and most affordable vehicle. I reviewed one about a year and a half ago – nothing has changed in the model line, other than the F Sport package that was optioned onto my current review vehicle.
Pricing
2013 Lexus CT 200h
Base price: $31,450
Options: $5,950 F Sport Package
Freight: $1995
A/C tax: $100
Price as tested: $39,495
Exterior
The CT is a small car. The front end styling, with a hint of aggressiveness from the F Sport grille, is well done. It's finished off with HID headlights, underlined by LED driving lights.
Smooth flowing lines continue over the roofline and down the sides. It's a pretty clean design, though the rear profile is the weak point, coming across as a bit confused. As a reference point, nobody could blame you for mistaking at CT 200h for a previous-generation Mazda 3 Sport from a distance. The similarities are striking.
The F Sport package also adds graphite coloured 17" wheels and some badging, as well as a rear spoiler.
Under the Hood
The CT has a hybrid drivetrain – as a matter of fact, it uses the 1.8-Litre, 4-cylinder hybrid drivetrain from the Prius. It puts out 134 horsepower. Lexus is a bit coy with torque numbers now, but previously released that it had 152 lb.ft of torque. I can't imagine that's changed.
Fuel economy is the key here, and the car is rated at 4.5 L/100 km (52 mpg) in the city and 4.8 L/100 km (49 mpg) on the highway. I managed to average a shocking 5.1 L/100 km (46 mpg) during my review week. This in daily slow commuting with a couple of freeway drives. I honestly never tried to drive efficiently. Obviously this thing is a champ at the fuel pump. The tank holds 45 litres.
Interior/Tech/Convenience
I really like the CT's interior. It is styled cleanly and simply, and the materials are very good. Soft-touch plastics, nice textures, beautiful leather with slick stitching. As I mentioned, the CT is small. The headroom in the snug cabin is OK for my 5'10" frame, but taller drivers might be unhappy.
The seats are fantastic. They offer great comfort and bolstering, and would be welcome in any sports car. They're heated and power-adjustable. I liked the steering wheel as much as the seats. It has a fat rim and has controls for media, driver information screen, phone and handsfree operations.
The dash is simple. In front is an instrument bin, with a big, clear speedometer, and a variable gauge on the left. Switch the car to eco mode, and there's a typical hybrid eco and a blue horizon over the gauges. In sport mode the gauge turns to a tach, with a "sporty" red horizon over the gauges. Yes, it's a bit goofy, but it's also fun. There's a driver information screen on the right.
The center stack houses Lexus' strange hybrid gear selector (shared with Prius products) and the audio system which sounds pretty good. The read-out is a plain wide ribbon display, instead of a fancy-shmancy screen. It seems low-tech at first, but works well enough.
There's a dual-zone automatic climate control system, a push-start ignition, a power tilt/slide sunroof, universal garage door openers – and a small back-up camera screen in the rear-view mirror.
Rear Seats
The CT has three seats (with seatbelts and headrests) but really, it's just seating for two. And probably two people you don't like very much. Rear passengers will find much to complain about, as head, leg and foot room are all severely limited. My three kids have all grown since we were in a CT 200h over a year ago, and they felt quite cramped back there.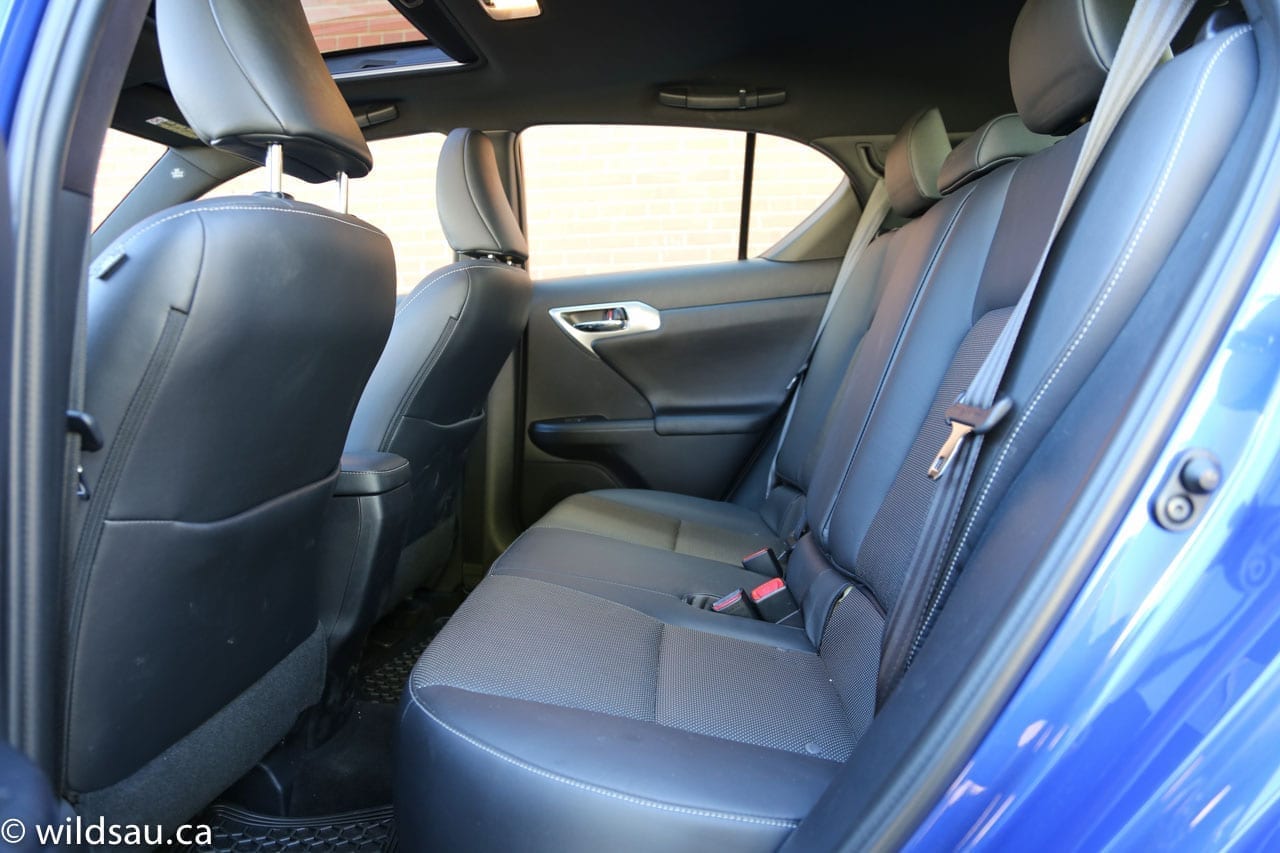 Storage
There are a few little storage areas around the cabin. My favorite is the shallow, 3/4″-deep tray in the console. It is just slightly wider than my iPhone 5, and about 50% longer, with a rubberized bottom. I've never seen a better place to set my smartphone in a car.
The trunk is pretty small at 405 litres. Of course, a hybrid needs a chunky battery and in the CT 200h, it's under the trunk floor. That makes the load floor higher than anticipated, and leaves you with a small cargo area. The rear seats split 60/40 and leave you with significantly more room when they're folded down.
The Drive
Here's where the CT 200h shows its dual personality. The outside of the car says zoom. The seats and the cool techy interior say zoom. The drive – not so zoomy.
The car is not fast. It's a very smooth accelerator, but the slick and almost silent driving experience isn't sporty. There's enough power for everyday driving, especially commuting. If you put it into Sport mode, it will add a little immediacy to the power delivery. Off the line, it's fine, but if you need power to pass, you'll be waiting a couple of moments until it arrives.
There is also an EV-mode, allowing you do drive in electric mode permanently. It works for slow city maneuvering but not for most other situations. I found the drivetrain to be exceptionally quiet.
The ride is quite firm, and stiffer yet than the normal CT 200h I drove a while ago. That's thanks to the F Sport suspension. I found it to be comfortable most of the time, but occasionally, the hits came through into the cabin and on rougher roads, it wasn't a lot of fun. As with other F Sport vehicles, the trade-off comes in the handling department. Extremely competent around corners, it felt solid any way I tried throwing it and I liked the steering feel very much.
The brakes are mushy as in all hybrids, but Toyota/Lexus does a pretty good job at making them not too grabby. They're definitely not sporty though. Being a small car, it makes for easy low-speed maneuvering as well as parking and doing u-turns. Outward visibility – although you sit quite low, it's still quite good. Rear visibility is hampered by the rear headrests.
Nitpick
In the center console, you'll find a 12V plug, along with the auxiliary and USB plugs under a flip-up lid. I hate this, because your cables or USB thumb-drive would be sticking straight up out of your center console. I wish they would have hidden them in the arm-rest bin, or up in that cool bin in the center of the dash.
The Verdict
The Lexus CT 200h is a weird car. It's sporty-looking, yet doesn't accelerate like a sporty car. However it handles like one. It's a convenient hatchback, which is normally a very practical configuration, but the rear seat space and cargo room leave much to be desired.
It's expensive, yet it does offer the cachet of the Lexus badge, relative luxury and stellar fuel economy. But that brings up the argument that, short of the handling part, its Prius stablemates offer similar fuel economy for significantly less money, and they throw in far more utility in terms of rear-seat and cargo space.
But none of them are nearly as cool as the CT. I guess it all depends on what you want.
WAF (Wife Acceptance Factor) was very high. She loved the drive (once she figured out the gear selector), she loved the way the cabin felt snug around her, and she loved how it drove.
I give the F Sport CT-200h a 6.5 out of 10. I'm OK with the lack of sportiness in terms of get-up-and-go. I'm OK with paying more for a premium-level car. But I'm not as forgiving regarding the lack of rear seat space or the cargo space and I'm not that happy with the ride. I'd forget about the F Sport package if I was buying one.
Disclosure:  Vehicle was provided by Lexus Canada.
If you enjoyed this review, feel free to check out my other vehicle reviews under the car reviews tab at the top of my blog.