Subaru's do-it-all compact hatchback is all-new for 2018.
Review and photos by Tom Sedens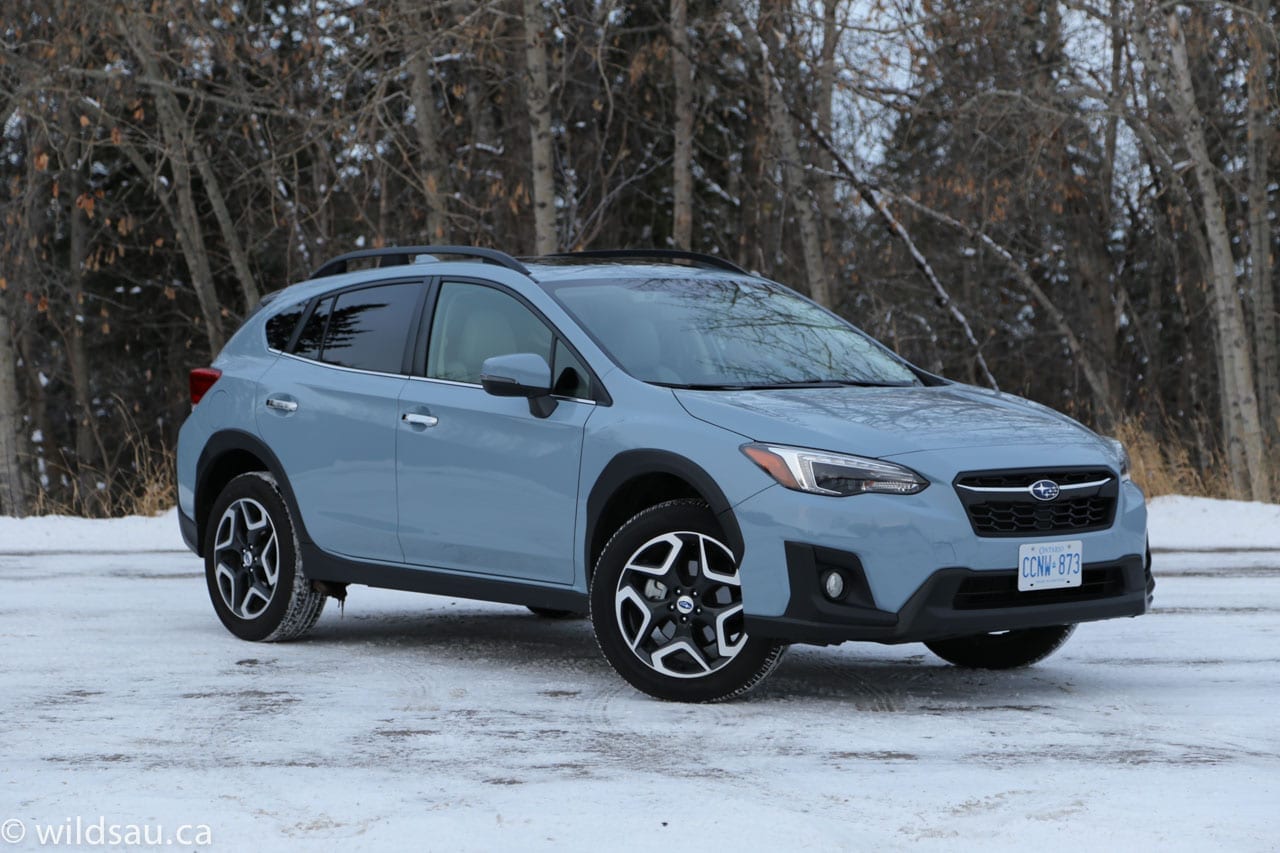 Pricing: 2018 Subaru Crosstrek
Base price (Limited w/ EyeSight trim): $33,195
Options: none
Price as tested: $33,195
People didn't know what to make of the Crosstrek when we first met it. It is obviously an Impreza underneath, with some off-road treatment. But was it a good urban car? Did it actually have any off-road (or at least soft-road) chops? Or was this all just a visual marketing exercise? Turns out it did a lot of things well. But there were some issues with that first generation too.
The new Crosstrek has addressed many of them. Although the exterior is highly evolutionary and is instantly recognizable, it's an all-new car built from the ground up on Subaru's new Global Platform.
As a car guy, I'm often surprised when people don't know what a particular car is. But it happens more often than you might think. And it happened a lot with this Crosstrek. A number of people came up to ask what it was and had never heard of the model, even though it's been with us for years.
Exterior
I really enjoyed my review car's Cool Grey Khaki paint, which is a new colour for this model year. Subaru gives the Crosstrek plenty of rugged, butchy elements, like a legit roof spoiler, big tail light pods that jut out and really aggressive 18-inch wheels (shod with 225/55s). The bold lines and the beefy wheel arches carry over. It's a tough-looking little car with some real ground clearance.
There are plenty of LEDs all the way around the Crosstrek – the steering-responsive headlights (which you can see actively painting light into corners as you turn into them), the tail lights and the cool signature driving lights.
Interior/Tech/Convenience
Although there's nothing new or exciting going on in terms of the cabin styling, it works really well. It's relatively clean and accessible, with a decent mix of materials – there's enough soft-touch plastic so that it doesn't feel entry-level. I really liked the contrasting orange stitching throughout – it's on the dash, the shift boot and the heated leather seats. Speaking of heated, the steering wheel gets that treatment too.
One of Subaru's weaknesses has long been its in-car entertainment systems. The Crosstrek's 8-inch touchscreen brings Subaru directly back to the competitive space. It's a well thought out system with a slick user interface that combines big buttons for the major functions and a bright and responsive screen. It has all the bells and whistles – Apple CarPlay/Android Auto, navigation, phone functions, outstanding voice recognition and it handles the fantastic Harman Kardon sound system. But there's an additional feature I really loved too – the upper screen. There's a second screen set into the upper dash that lets you access things like the trip computer, a big clock, temperature and other information, and it works very well. The Limited trim gets a dual-zone automatic climate control and there's a sunroof overhead.
The Crosstrek's driver assistance technology is pretty full-featured thanks to the EyeSight package – there's high-beam assist, pre-collision braking, adaptive cruise control, lane departure warning and lane keep assist, blind spot monitoring, a back-up camera and rear cross traffic alert. On the topic of EyeSight, this technology uses a pair of cameras flanking the rearview mirror and the bulges in the headliner plastic that accommodate the cameras drop down far enough that they are definitely noticeable and intrude into your field of vision.
Rear Seats
There are three seats back here, each with a headrest. The middle seatback folds down to become an armrest with a couple of cupholders but otherwise, there's nothing else going on – no air vents, no charging ports. The two outboard passengers get treated to ample head and leg room and the seats are quite comfortable. The middle seat is narrow and straddles a big driveshaft tunnel, but that's not unusual.
There are two sets of LATCH anchors if you transport child seats.
Storage
I like the rubberized bin under the centre stack – unfortunately there's only a 12V plug there. It would be great to have a USB or wireless charging zone as well. There are plenty of plugs however under the armrest lid – there are two USBs, a 12V and the auxiliary input. Unfortunately this space isn't carpeted or rubberized, which means whatever device you put in there is going to be banging around. Strange omission.
The trunk is big enough at 588L but you can access up to 1565L of cargo space with the rear seats folded down. There's a removable retractable tonneau cover to keep your stuff covered from prying eyes.
Under the Hood
The Crosstrek gets a new 2.0L 4-cylinder boxer engine. It puts out 152HP at 6000 RPM and 145 lb.ft of torque at 4000 RPM. They all come with all-wheel drive and mine was equipped with a CVT transmission. Subaru rates the Crosstrek  at 8.8/7.2 L/100 km city/highway. We averaged 9.2 L/100 km which isn't that great in my opinion, considering I was driving relatively conservatively.
The Drive
I really enjoyed driving the Crosstrek. It handles pretty well, has surprisingly direct steering and the all-wheel drive is outstanding. The ride is firm but very comfortable and nicely controlled. The Crosstrek is certainly not a fast car. It has all the power you need for normal driving but if you're looking to mash the gas to race someone from a red light, you'll be rewarded with a lot of noise and not a lot of forward momentum. It's just not that kind of car.
The CVT is programmed to mimic gear ratios and it feels like it's actually shifting gears, even though it doesn't have any. The transmission can be "shifted" manually using the paddles – even though these are faux gears, the shifts are very quick and quite rewarding.
All CVT-equipped Crosstreks get Subaru's X-Mode, an off-road mode that automatically and intelligently applies brakes and uses an electronic brain to help your traverse some of the more adventurous terrain. If you're planning on scrambling up some challenging hills and coming back down them, engage X-Mode and it will look after the rest.
One of my biggest gripes in the old Crosstrek was the noise. It was a really noisy little car. Subaru has gone to great lengths to address this, and overall, it is vastly improved. There is still some noise, particularly from the engine and transmission under throttle, but otherwise it just comes across as much more refined.
The Verdict
WAF (Wife Approval Factor) was higher than I expected. She said it was a blast to drive and that it felt like a high-quality little car. She said the all-wheel drive felt very secure in the fresh snow.
Subaru has come up with a great fun-to-drive car here – one that offers up an outstanding balance between utility, spaciousness, comfort, technology and on/off-road capabilities. There is no doubt that the Crosstrek can do what virtually anybody would ask of their vehicle. And that says a lot. If you like the rough and tumble looks, put it on your shopping list. It's a little car, a little wagon, a little crossover, a little SUV – it's whatever you want it to be.
Disclosure:  Vehicle was provided by Subaru Canada.
If you enjoyed this review, feel free to check out my other vehicle reviews under the car reviews tab at the top of my blog.