Subaru's legendary Outback is all-new for 2020 and better than ever.
Review and photos by Tom Sedens
The adventure-seeking, best-selling wagon in these parts rides on a new platform and gets a stunning all-new interior.

Exterior
Styling-wise, Subaru kept things conservative – Outback owners don't like a lot of changes to this model, and so they've kept it very recognizable. There are a few tweaks here and there, but most people would be hard-pressed to tell this apart from an Outback that's a few years old. Up front, you get LED headlights and fog lights, and the fenders are filled with 18-inch wheels with chunky 225/60-sized tires.
The brawny ready-to-hit-the-trails look continues, with plastic cladding lining the wheel wells and the bottom of the car, and a skid plate up front to protect the expensive bits. The ruggedly handsome wagon keeps its purposeful exterior and that's a good thing.
Interior/Tech/Convenience
If you haven't been in an up-trim Subaru recently, prepare to have your socks blown off. The styling is clean and streamlined and the materials are amazing – Subaru has knocked this interior out of the park. Soft touch plastics, wrapped surfaces with contrasting stitching, outstanding brushed metal look trim, a two-tone color scheme – it all works in concert to present as a massively refined, beautiful space. This is a classy cabin, y'all.
The seats are upholstered in Nappa leather, which is as nice to look at as it is to touch and sit on. They're very comfortable, heated and ventilated and there's a driver's side memory setting. The steering wheel is heated as well.
The massive 11.6-inch tablet-style touchscreen includes navigation, controls for the outstanding 12-speaker Harman Kardon sound system, phone controls and plenty of vehicle settings. Apple CarPlay and Android Auto function beautifully here.
There's a full suite of driver assistance technology – you get rear/side vehicle detection, blind spot monitoring, lane change assist, rear cross traffic alert and automatic braking, rear and front view cameras and the whole gamut of Subaru's camera-based EyeSight technology: pre-collision braking, adaptive cruise control, lane centering assist, lane sway and departure warning and lane keep assist. There's also the somewhat irritating and overly watchful distraction mitigation system. I get why it exists, and its mission is a noble one, but dagnammit, Subaru, I just want to look around a little bit when I'm driving and I don't want to be reminded immediately to keep my eyes on the road. It got a bit annoying. You can turn this off, but it will always turn itself on again when you fire up the car.
Rear Seats
I found the two outboard seats (which are heated) to be very spacious in terms of head and leg room. The middle passenger has to deal with a large floor tunnel and a rather constrained seat. Rear passengers get adjustable air vents and USB charging ports.
If you have little people, you'll find two sets of child seat anchors in the back.
Storage
There are a few nooks and crannies for your stuff. The passenger has an open tray on the dash in front of them, as well as a glove compartment below. At the front of the console is an open bin, along with 2 USB ports and an auxiliary plug. Pop the armrest lid and you'll find a dual-level storage bin – and in a throwback to who knows when, a single CD player!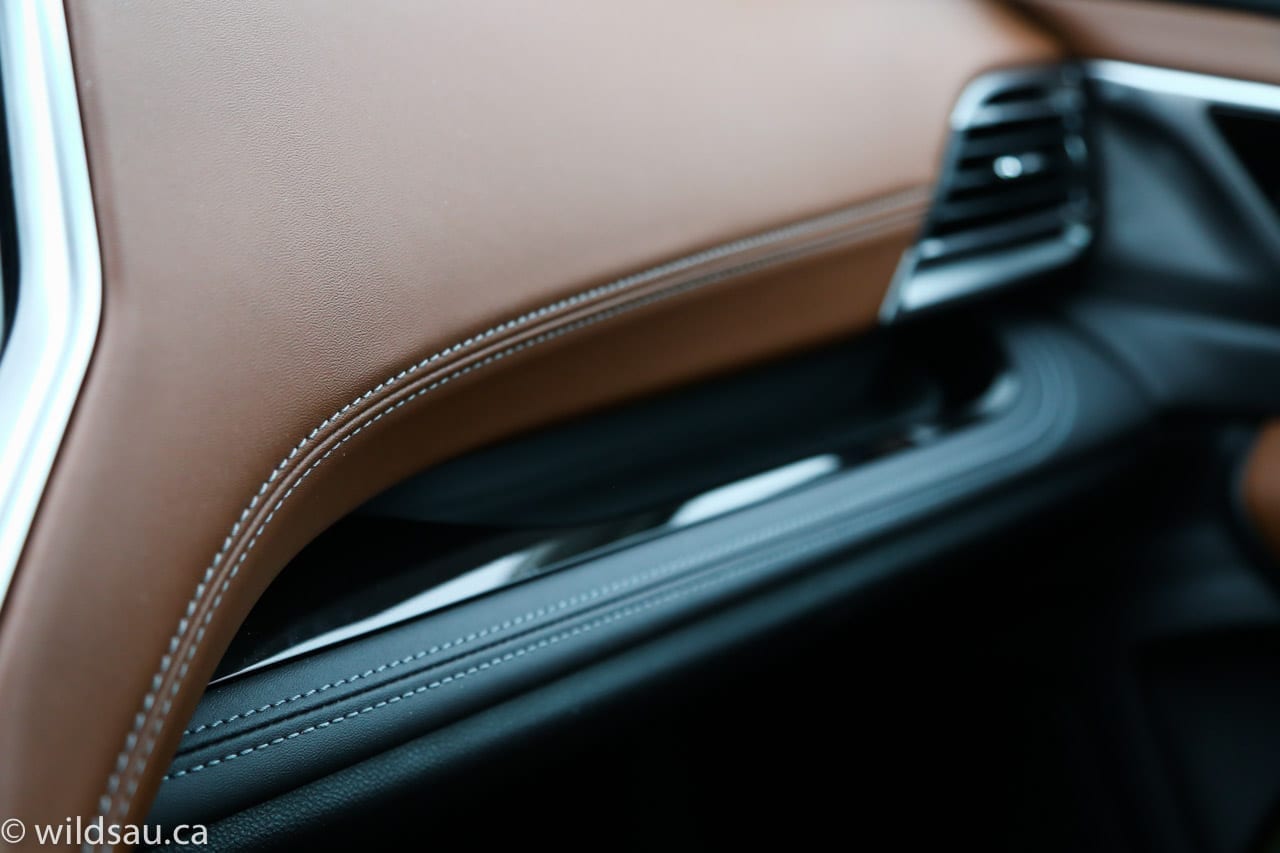 You open a power liftgate to access the substantially-sized (920L) trunk. I find Subaru's attention to detail here notable. They include nice bag hooks, and some very stout and well thought-out tie-down points – these things won't snap off when you actually use them. You can fold down the rear seats (they split 60/40) from the seats themselves or remotely from the trunk, which can increase cargo capacity to a massive 2144L.
Under the Hood
Motivating things is the 182 HP 2.5L boxer 4-cylinder (torque is rated at 176 lb.ft) – it is mated to a CVT (continuously-variable transmission) and of course, you get Subaru's unstoppable full-time all-wheel drive system.
Subaru has rated this combination at 9.0/7.1/8.2 L/100 km (city/hwy/combined) – we saw an average of 9.1 L/100 km after our week in the Outback.
The Drive
This, the base engine, provides enough hop off the line and while you're on the go to provide a satisfying driving experience. With that said, if your mission is to punch it and accelerate quickly to higher speeds, this isn't the right powertrain. The engine gets noisy and overall, it seems a bit grumpy when you ask it to do a quarter-mile dash. If that's what you're after, see my final notes – there is salvation available. But as I said, for normal driving, this has all the power one needs.
The CVT is fantastic. It's intelligent and keeps the revs in the appropriate range almost invariably. There's no drama one expected from early CVTs and it's just a pleasant transmission. You can shift "gears" (which just jumps around among pre-programmed ratios but is actually quite convincing and useful) using paddle shifters.
Subaru's all-wheel drive system never ceases to amaze and impress me in anything short of perfect driving conditions. Given that I reviewed the Outback in the dead of winter, during a bitterly cold stretch that saw us getting plenty of snow, I couldn't have wished for a more capable car. It did a great job during that time, as well as at the tail end, when we suddenly saw warmer temperatures that left us with melting, sloppy and slushy conditions.
The Outback, short of engine noise when you pin it, is incredibly quiet. Road and wind noise are exceptionally well controlled, and the suspension just adds to this. The ride is equally quiet and refined – it's firm, but always smooth, and it happily soaks up really big hits, which is great because the great city of Edmonton appears to be competing for the world's worst roads title this winter.   Handling is very good – it's very predictable and competent. You'd expect a little bit of body roll as it's a tall wagon but Subaru has kept this to a minimum and I was very impressed.
Braking is good – no complaints there. And visibility out of the car is excellent.
Subaru Details
Subarus have surprising capabilities, often taking their owners to places where even crossovers couldn't go. The Outback has always been a soft-roader, with outstanding suspension and ground clearance. I enjoyed that ground clearance on our winter streets, as it allowed me to traverse some deep fresh snow without worrying about plastic bits ending up on the roadside. Should you find yourself tackling challenging terrain, there's an X-Mode that will take care of your gas and brake pedals, passing on their control to electronics and allowing you to safely crawl up and down some very steep hills and still remain in complete control. There's even a legit hill-descent mode.
On top of the Outback are robust roof rails with integrated crossbars and tie-down holes. You can even tow – up to 2,700 pounds, which is more than a lot of crossovers can pull.
Nitpicks
The theme continues – if you're a regular reader, you'll have noticed this in my last couple of Subaru reviews. And as long as Subaru keeps screwing this up, I'm going to keep calling them out on it.
I'm going to say the same thing, word for word. The automatic engine start/stop technology is definitely not Subaru's strong suit. The issues are when the engine fires back up. It's not bad when you are at a red light or whatever, and the car has shut down, and you let up on the brake – the expected refire of the engine is generally acceptable. The problem is when the car decides it needs some juice and fires up the engine when you are still on the brake. Then it torques the entire car around, and adds a panic-inducing forward lurch into the mix. That makes things quite uncomfortable when you're at a red light, particularly when there are pedestrians crossing in front of you. The Outback's start-up drama and ensuing full car lurch definitely makes those pedestrians and its driver very uncomfortable, and it's a strike against an otherwise exceptionally refined automobile. I experienced this exact same issue with the Forester and the Legacy.
The Verdict
WAF (Wife Approval Factor) was very high. Anyone who knows my girl knows wagons land high on her list, and she was very pleasantly surprised with the luxurious interior and the ease of driving the Outback.
I simply loved the Outback. I'm a wagon fan too, obviously, and I have always like the Outback's approach of offering just a bit more. A bit more clearance, a bit more utility and capability, a bit more ruggedness – without sacrificing any daily drivability or usefulness.
You get a world-class cabin, class-leading capability, utility and cargo space, efficiency and adequate performance all for a price that remains utterly competitive.
Subaru gets even more points in my books because they now offer an XT upgrade on the three higher trims – pony up an extra $2,800 and you get their snortin' 2.4L turbocharged boxer that puts out 260HP and 277 lb.ft of torque. Some people won't care at all, but it's an absolute game-changer if you yearn for more jam.
Pricing: 2020 Subaru Outback
Base price (Premier trim): $40,995
Options: none
Freight: $1,800
A/C tax: $100
Price as tested: $42,895
Disclosure:  Vehicle was provided by Subaru Canada.
If you enjoyed this review, feel free to check out my other vehicle reviews under the car reviews tab at the top of my blog.